How to create a positive employee experience for women in tech
What does it cost to a business to lose an employee? Experts share that for an entry-level role, it's 50% of salary. For an executive role, it's 200% of salary. Today, companies fight to attract a diverse and high-performing team. They want to create a positive employee experience and an inclusive culture. But they often don't know how.
To help this problem, Elpha, a community of over 35,000 women who work in the tech industry, created a survey. They asked their members to rate how likely they are to recommend their workplaces to other women. Thousands of women have submitted ratings. 2000 women shared why they chose those ratings.
Our team at Thematic helped Elpha to digest the results of this survey into insights:
Which qualities make companies welcoming to women?
Why would a woman recommend their workplace to a peer?
What drives the most negative experiences that companies must avoid?
Here are some of the take-away put together by the Elpha's team. For the full list of insights, read Elpha's original article.
#1: Provide networking opportunities for women

Internal networking opportunities are the most important attribute for a women-friendly workplace.
As one woman who gave her company a 10 wrote:
"At our organization, they do a really great job at recognizing women and treating them as equal no matter background or experience. We have a networking group, a community of women to enhance each other's personal and professional growth by fostering mentorship, professional development, and knowledge-sharing."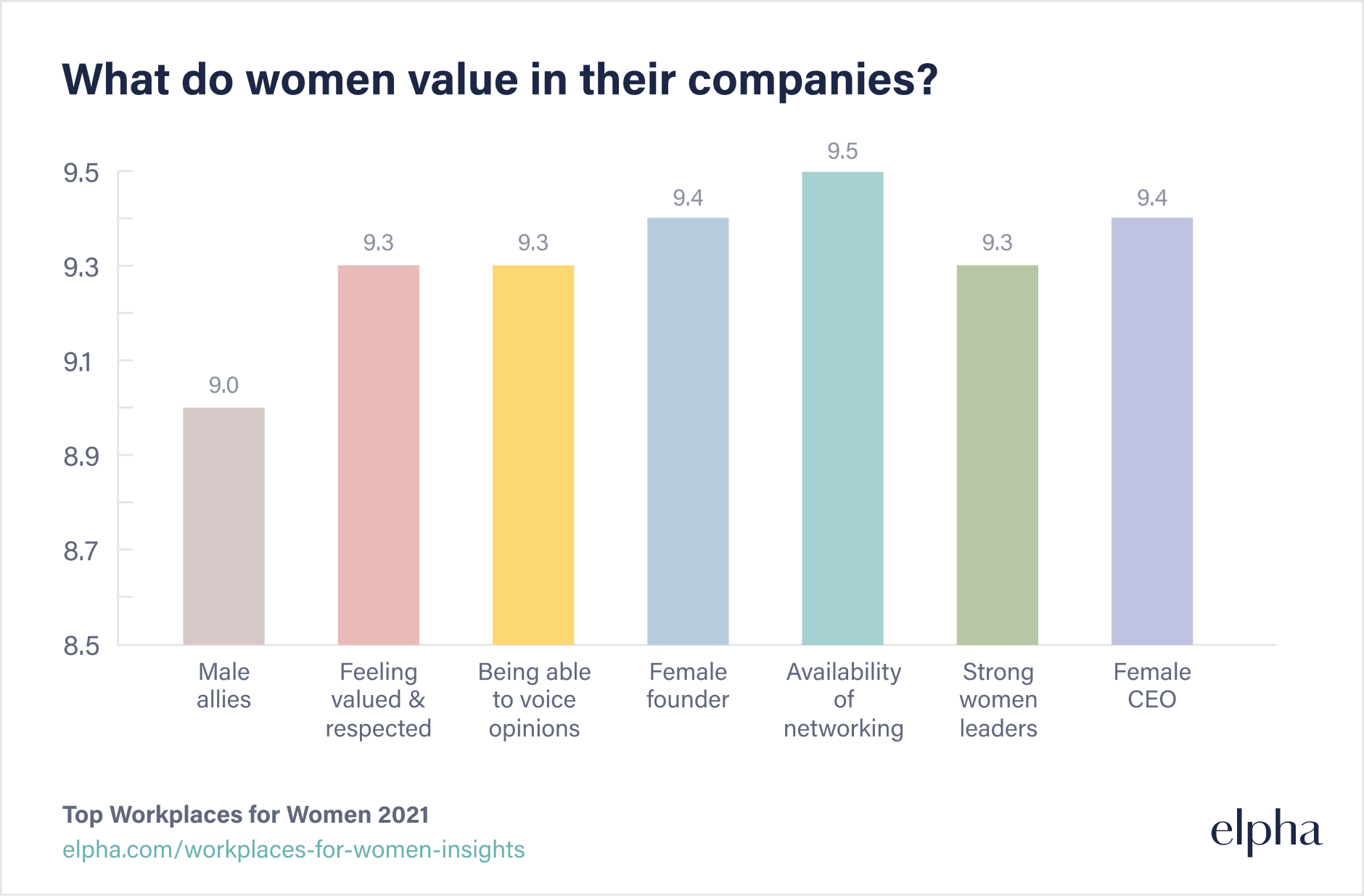 #2: Hire senior women and promote women


It's important to see women in positions of power.

A woman founder was the biggest positive driver of a positive work experience.
Women founders drive a culture of empowerment and mentorship for women employees. Those that scored 9 or 10 report that they are able to voice opinions, feel valued and respected, and have male allies within the company.
"Female founder, majority female board, majority female leadership team - an awesome place for women to work!"
Women also take note when they see examples of other women succeeding at their companies.

Women who gave their companies top ratings mentioned seeing other women succeeding internally.
As one Elpha member wrote,
"We have female leadership across our C-Suite, VP, Director, and manager levels. As a female, I see a lot of female role models in my company who are strong and independent."


#3: Positive work experiences are about teamwork and mutual respect


Workplaces with power dynamics drive the lowest scores.
Those who rated their companies 1-5 cited poor direct management, microaggressions, and a "white-male-driven power structure".  Mansplaining, harassment, and sexism are top causes for low company scores.
One woman shared her experience:
"The new VP of Engineering, when asked about the lack of women within the department and chronic under-leveling of female engineers, said that it was a "pipeline and merit" problem, much to the dismay of women who have seen their efforts go unacknowledged, and despite feedback about how problematic and uninformed his statements were, he never apologized. Within the engineering team, there are some well-meaning peers, but still lots of mansplaining, interrupting, stealing credit for women's ideas, and not taking women's ideas seriously."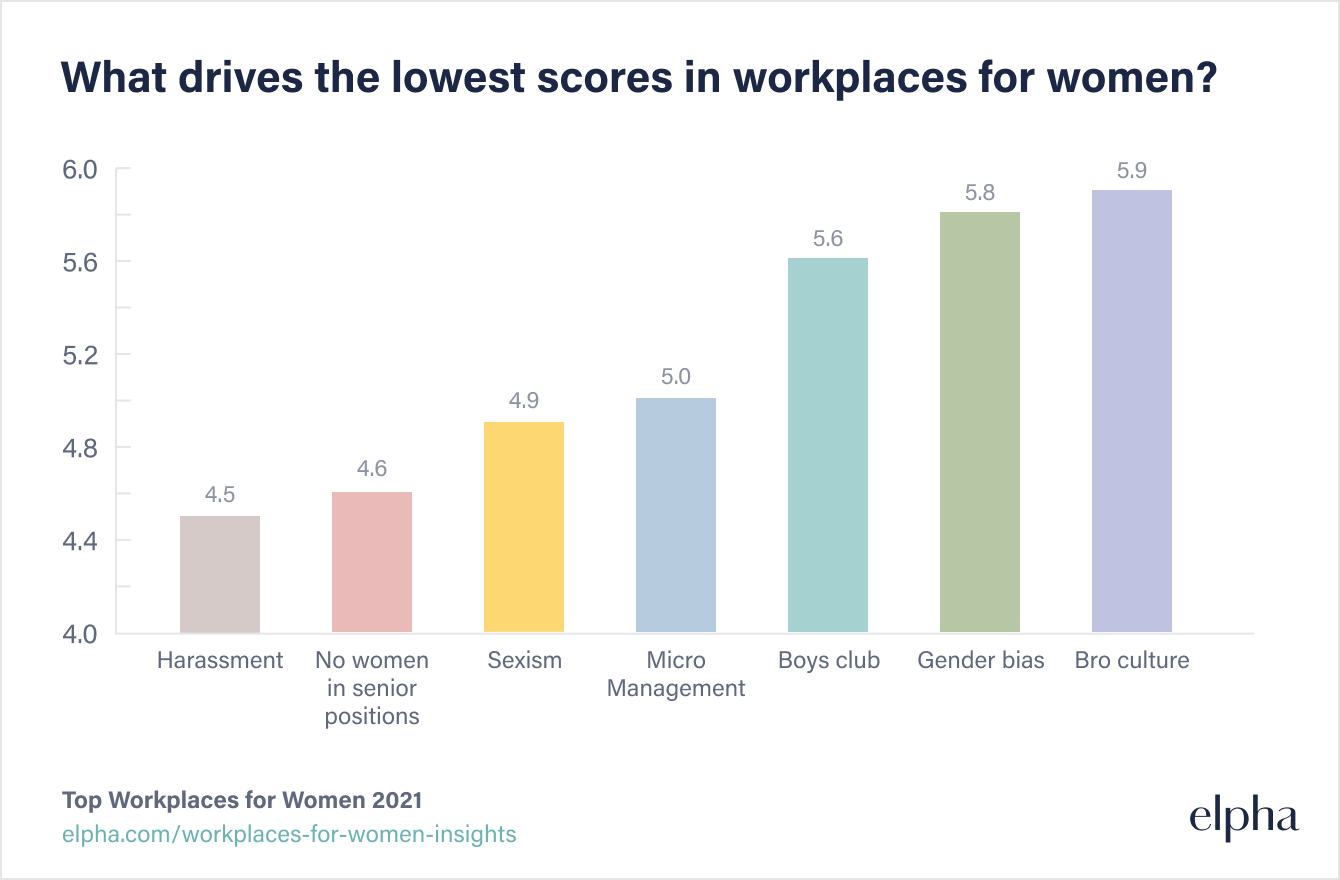 #4: Eradicate discrimination and harassment


Women who have experienced gender bias, sexism, or harassment are the most likely to rate their workplaces as unfriendly to women.
11% of women who rated their workplace with a score of 4 or less mentioned sexual discrimination.
This is a sobering statistic!
Continue reading Elpha's post for more context behind these findings and other takeaways.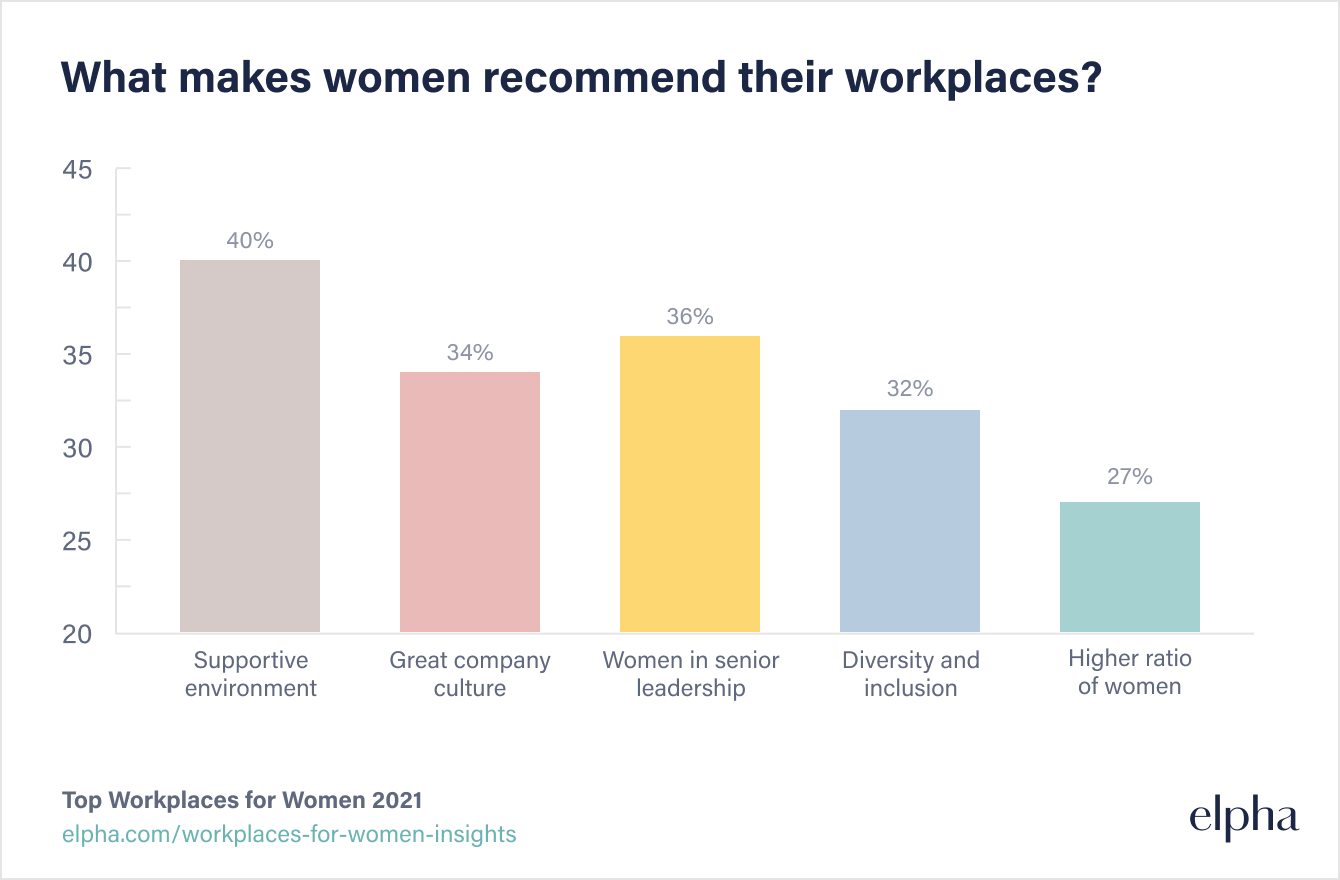 Creating positive work experiences at a workplace
Did you find these takeaways surprising?
Perhaps not.
But they do reveal that the core human values are still missing at a lot of tech companies.
Mutual respect should be table stakes. Feeling safe at work should be a given.
These insights are a reminder that we must do better. We must create better work experiences for minorities in tech. We must be allies.