Fitness Tracker Showdown: Garmin Connect vs Strava
If you're an avid runner or cyclist, you know that tracking your progress is crucial to reaching your fitness goals.
Two of the most popular apps for tracking your runs and rides are Strava and Garmin Connect.
Both apps have a lot to offer, but they have some key differences that may make one more appealing to you than the other.
This introduction was brought to you by ChatGPT, the in-vogue AI chatbot. My name is Kim and I am a sentient being. I've recently started at Thematic as a backend developer. As part of getting to know the Thematic platform I have been tasked with analyzing some feedback data and reporting on my findings.
I've chosen to compare customer feedback between iOS apps Strava and Garmin Connect, hence the awesome introduction not written by me. I chose these as Paul, my partner, is a fitness nut and uses both of them religiously. If a run, bike or swim isn't recorded by an app it didn't actually happen, right?
Strava and Garmin Connect apps are available on Android and iOS platforms, but in keeping that Paul uses Apple devices I am going to stick with these versions.
Getting 4000 App Store reviews into Thematic from these two iOS apps was ridiculously easy with its app store integration for both iOS and Google Play.
When I asked ChatGPT to compare the two fitness tracking apps, this is what it had to say:
"Both apps have similar features, such as GPS tracking, activity tracking, and the ability to set goals and track progress. However, there are some key differences between the two apps.
One of the main differences is that Strava focuses more on social features and allows users to connect with friends and join groups, while the Garmin app focuses more on in-depth data analysis and personalization.
Strava also has a larger user base and a more active community, which means that users are more likely to find other people to connect with and compete against.
On the other hand, Garmin app is more specialized in outdoor activities like cycling, running and swimming and provides more detailed data analysis and training plans for users."
Enough from my AI friend. Prior to getting into this project I was thinking this was going to be a "if you had to pick between the two" comparison, but it's not.
Still, I wanted to see what Thematic's analysis will give me with two apps that are "same same but different". So onto analyzing the App Store reviews for Strava and Garmin.
Thematic does some pretty cool stuff in terms of working out what the dataset of feedback is collectively saying.
"Thematic's analytics" churn out numbers, scores and graphs; but what I like the most - especially for writing this post - is a feature called Theme Summary. This is where a nice human readable summary is given based on a Theme and optional applied filters. A Theme is a general concept or topic found within the collective customer feedback.
Below are the notable Themes for Strava and Garmin with commentary about each from Thematic's Theme Summary tool.
Strava:
Positive experience:
People seem to really enjoy using Strava to track their workouts and connect with friends. There are some suggestions for improvements, such as focusing on sport instead of politics, but overall people seem to be really happy with the app.
Price:
Strava's subscription service is too expensive for what it offers, especially compared to other apps. Many features that used to be free are now only available with a paid subscription, and the subscription is automatically renewed unless you cancel it.
Features and functionality:
The feedback is mostly negative, with users disappointed that free features are being removed and that the app is becoming less usable. There are also complaints about too many notifications and that some features are now behind a paywall.
Garmin:
Positive experience:
Overall, people seem to really like the Garmin app and find it helpful with their fitness goals. Some people have found issues with the app, specifically with connecting to Bluetooth and the My Day page not working, but generally people seem to think it's a great app
Data:
The Garmin Connect App is not syncing properly with the Apple Health app, which renders it useless for people who use both. There are also issues with the app not recording heart rate properly. However, people who love data love this app because it provides a lot of information and stats.

Watch:
The app has trouble connecting to the watch, even when they are right next to each other and paired. It also disconnects from the watch a few times a year and users end up having to delete it and start again.
From these summaries it's clear that there are issues that customers are having with these apps.
Thematic has been able to pull out from the feedback that Strava has moved some loved free features to now be under their paid subscription features.

Customers are saying that the paid subscription is too expensive.

Garmin is not perfect either. Customers are saying that they are having issues with the app not pairing with their Garmin devices.
Judging from the feedback, the Garmin Connect app has an integration with Apple Health and people are saying that they have had trouble syncing these two.
Here are two sentence clusters reporting this issue:


Looking into customer complaints about Strava's free features turning into paid subscription features, Thematic can point to the time when this switch happened.
From November 2022 there was a dramatic increase in people complaining about the price and the features which negatively impacted their score.
Another noteworthy finding is the volume for comments citing issues with Strava's app not working. This Theme peaked in July 2022 and then declined, so maybe Strava resolved the issues people were pointing out.

In regards to the Garmin app, the majority of issues cited by customers are centered around device/app syncing.
In Thematic, the trends show that these issues cycle (pun intended) through peak and decline over the last year, with a downward trend over time peaking at April, July and September 2022.
Thinking out loud here, this could indicate that Garmin stays on top of device/app syncing issues.
Now to compare Strava and Garmin against each other. Price was a hot topic for Strava, with 452 of the respondents mentioning it. With Garmin, price is only mentioned in 80 of their reviews. Price negatively impacts score for both.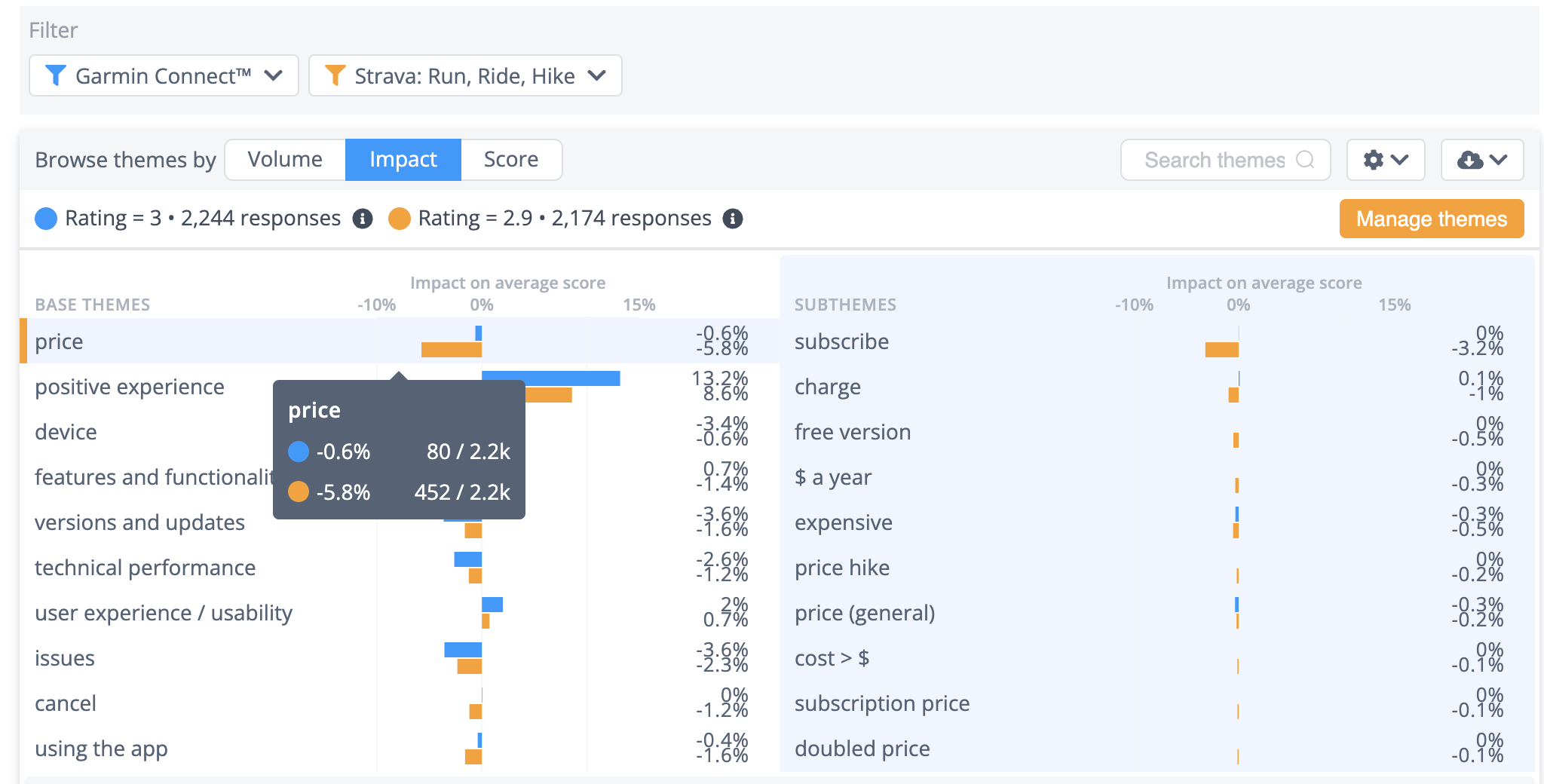 Diving into the comments for Garmin, customers are talking about price in regards to their Garmin devices, not the Garmin app itself. Based on the absence of Themes around subscription and premiums, I believe this is a free app (see above screenshot).

All the negatives aside, 784 reviews for Garmin are tagged with the positive experience theme, whereas it's 664 reviews for Strava. Sub-themes in this Theme are: great app, love, easy to use, great app - you get the gist. If I was planning to use this dataset going forward, I'd merge some of these similar sub-themes, which is really easy to do in Thematic.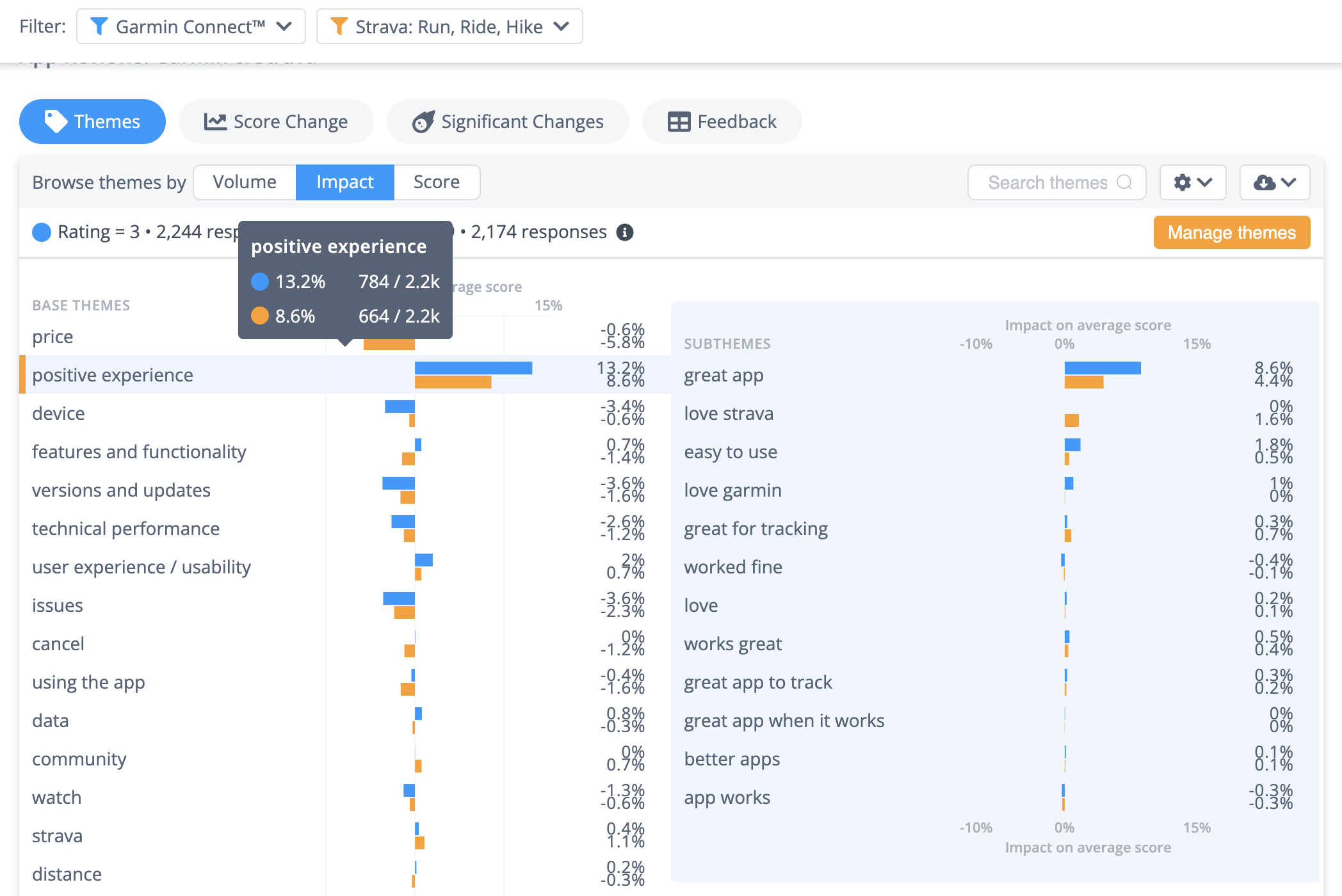 The user experience theme positively impacts both apps scores; respondents reviews increase scores by 2% and 0.7% for Garmin and Strava respectively. It seems that Garmin is coming across as the more likeable app.

As previously mentioned, these two apps are not an exact choice between one or the other.
It is safe to say that you use Strava for the online community and a basic level of analysis and you use Garmin connect for a deeper dive analysis of your exercise sessions.
Going off people's feedback I wouldn't pay for the Strava paid subscription. If I bought a Garmin device and was pairing it with my super new way too expensive Apple phone, based on my review analysis, I wouldn't be surprised if I had issues syncing to the Garmin Connect app.
This was my first Thematic analysis experience, thanks for stopping by! Looking forward to my future with Thematic. However long that may be, you never know - Boston dynamics and OpenAI could create a love child robot that turns sentient and angry, and next thing we have a dystopian Black Mirror situation on our hands. Complete with angry robots that know where and how slow we run from our Strava and Garmin data.
Maybe it's a good thing I don't use a fitness tracking app.