Thematic is a G2 high performer!
We're delighted to announce that we have been named a High Performer in G2.com for two categories: Feedback Analytics Software and Enterprise Feedback Management.
Thematic is rated as a High Performer after receiving higher ratings from verified user reviews, compared to other providers in the Feedback Analytics and Feedback Management categories. The quality of support and ease of use are considered particular Thematic strengths.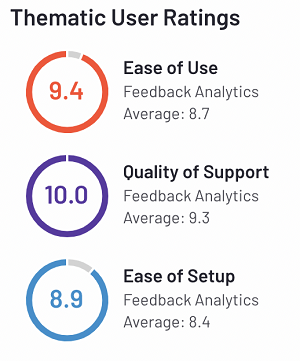 We enable ambitious companies to transform the way they use their feedback data to solve problems. Feedback is unified, analyzed and explored in one central platform, empowering companies to understand customers and know what initiatives to prioritize better than ever before.
At Thematic, we enable our customers to improve the quality and relevance of insights uncovered in the feedback by allowing insights managers to translate business context into themes. It's an ideal balance of human expertise and technology, enabling our machine learning models to effortlessly surface actionable insights. Thematic clients discover that a partnership of technology and human engagement delivers more actionable insights.
Here's what Adeline had to say about Thematic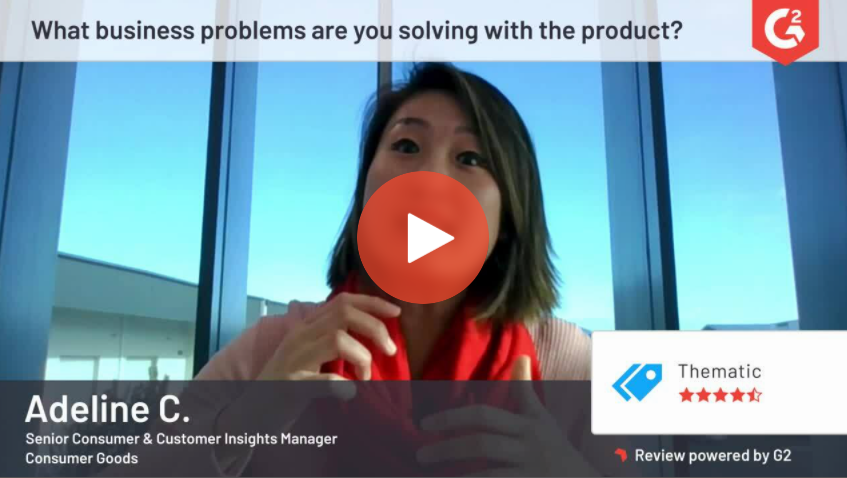 We're pleased that the reviews reflect the real-world experience of our clients, a testament to the value delivered by our feedback analytics platform, the support of the customer success team at Thematic and the value our clients get from being able to add their own expertise.
Here's what a few of our customers had to say in their reviews:
"We've (used Thematic to) make sense of thousands of open-end comments to understand what is driving NPS - it helps tell a cohesive narrative between quantitative + qualitative data. The team is easy to work with: very responsive and open to feedback to customize the tool to our needs."
--Allison Schoer, Insights professional at LinkedIn
"The tool is powerful and so easy to use. The interface is very intuitive and does a nice job visualizing data and trends. It's really helped us figure out where to prioritize our efforts – and gives us the ability to see improvement over time."
--Jason Brownewell, Product Design Executive at UpperHand Digital
Check out our other G2 reviews here and discover how Thematic works in this 1 minute video.