Getting a Dasher sense: How Emma Glazer at DoorDash builds customer understanding
Emma Glazer admits she is a little obsessive about gathering and monitoring customer feedback.
It's a fixation that comes with her job. As a marketing director at the largest online food delivery company in the US, Emma needs to understand exactly what drives the DoorDash delivery drivers. She is on a quest to grasp exactly what matters most to these drivers – or Dashers – who are her customers. What annoys them? What puts them off the job or keeps them coming back for more delivery work? And, most importantly, which tweak might make the biggest difference?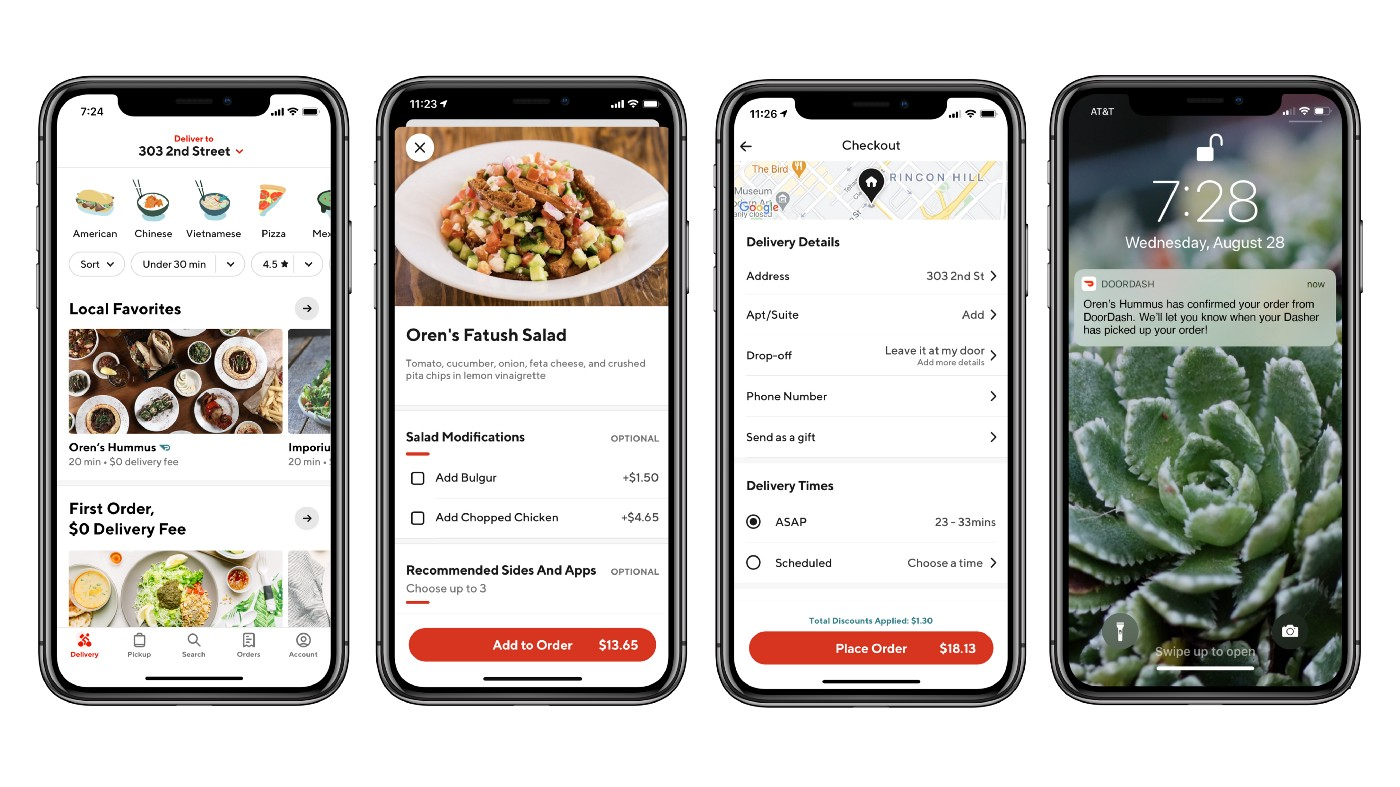 The company's rapid growth has made her task huge. She has to consider feedback from more than a million delivery people visiting untold numbers of restaurants and homes across the United States every week.
That's alongside opinions from product teams and the user experience research team and those Wednesday morning 'coffee and bagel' meetings with her dashers to talk about pain points face-to face. Drawing meaningful conclusions is not easy with a pool of data on this scale.
"I'd had years of making my own pivot tables, searching key words," Emma says. "I'd spent the better part of a year digging into insights, trying to understand the customer experience till one day I saw this incredible dashboard flash up on the screen. That was Thematic."
Emma was immediately hooked and says Thematic's dashboard did just what it promised. Having processed thousands of pieces of feedback in minutes, it could clearly show everything from the root cause of a particular issue to the predicted impacts of a specific strategy that addressed that issue.
Suddenly, the marketing director and her team could see where best to focus their efforts and resources, then track results from any changes they made.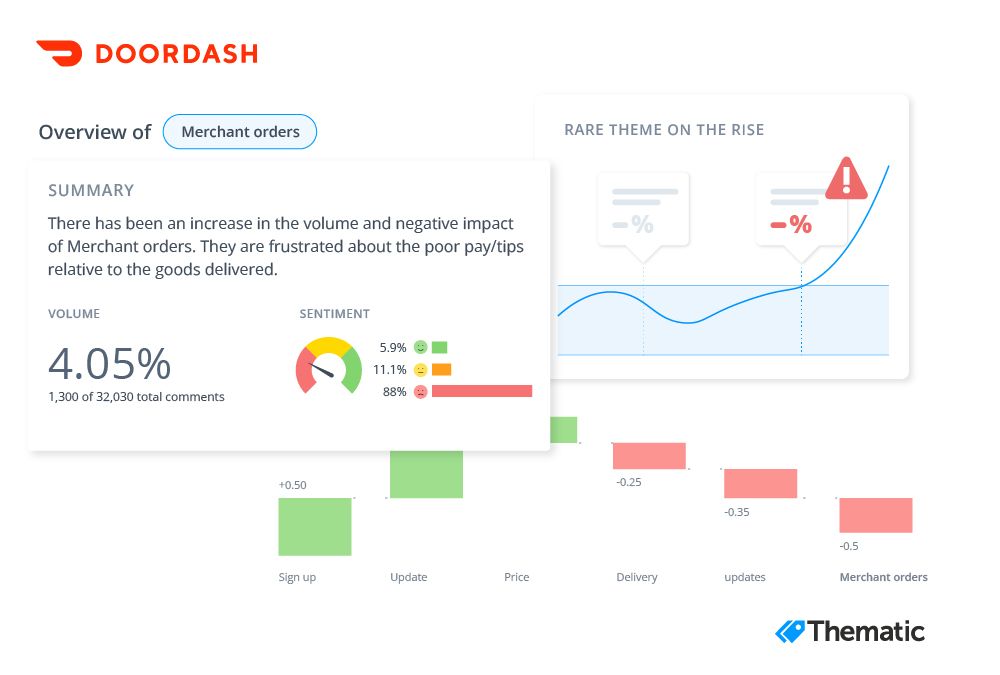 "It made it really quick and easy," she says. "I talk to Dashers every day. But I rely on the work Thematic does to understand what themes are on the rise, what dashers are saying, in aggregate, about the product."
"It's about establishing priorities. You aren't thinking about the whole universe, you've got these three or four themes that might be disproportionately impacting our scores."
Emma says honing in on key themes means everyone in the business can be far more specific in the questions they ask. Which in turn influences the effectiveness of everything from creative campaigns to product features.
"We might be working on something that could drive efficiency, make the delivery experience faster. Of course understanding what Dashers like or what is challenging can influence what we build. But true customer feedback can also influence how we think about what the feature looks like when it comes to life.
"And then we can measure the result. That's really important. Not only can you see what drives key performance indicators like sales or retention or engagement, you can see what helps people prefer your product.
When vast numbers of customer surveys indicated working hours affected driver satisfaction, Thematic helped show it was work flexibility that mattered most. This information was then prioritised in marketing campaigns. A new reward system was also introduced, to grant top-performing dashers more flexible hours.
"And we can see exactly how the initiative impacted feedback. Not only in overall sentiment but in the retention of those top dashers. And that helps us think about how to build new features."
In another instance, Thematic threw up what it calls a 'rare theme on the rise' that looked as though it could be increasingly problematic for dashers. With the red flag raised, Emma's company was able to quickly establish the likely impact of emerging anecdotes.
The small rumblings turned out to be serious and Thematic provided verbatim reports that perfectly illustrated what dashers were experiencing.
Consequently, Emma and her colleagues set aside the other challenges, obstacles and optimisations they could have been working on, to focus on this one.
The result? Changes in the Dasher app as well as changes to consumer experience and store pick-up systems.
"We could truly see the impact of these changes in real time, on Thematic. This makes it really real for us. It definitely makes a stronger brand long term and a stronger team who can make a change, then see results.
"I think it rebuilds trust within the organisation."
Consequently, she is accustomed to the logistics team reaching out, asking her to quantify the impact of a particular challenge. Emma's insights are shared between the brand and product teams, too. They have learned to ask what she is seeing and hearing and to expect a few pithy screen shots to illustrate her point.
"We're able to harness customer feedback so beautifully. So it's not just me saying, 'these three Dashers emailed me'. It's 'these three Dashers said this and here's what we're seeing in the net promoter score (NPS)."
"I can be a better champion for our audiences because I have a better understanding and I have all the info."
Emma and her colleagues are still learning new ways to harness the power of all these rich data insights and how they can inform every part of the business.
But she has a laughing admission to make.
"In terms of sharing data or pulling information, Thematic makes me look a lot more data-savvy than perhaps I am. I can whip up a very quick waterfall chart showing the impacts of themes on NPS from one month or quarter to another. It's so easy that sometimes, I don't want to tell people."
She pauses and grins.
"Because knowledge is power."