Product Update: new features round-up
Almost halfway through the year and it's been an absolute whirlwind here at Thematic. Alongside our generative AI feature Theme Summarizer, our product team have been busy adding updates and improving existing functionality, so you have greater control over your data.
Here's a quick rundown of what we've recently shipped to make Thematic even better:
Theme Discovery workflow: set up an alert when new themes are detected, so you can review and decide whether to add them to your codeframe.
Advanced Search: Thematic now supports the special words AND, OR and NOT (capitalized) to create logical queries.
Data Volume alerting workflow: receive an alert when irregularities are detected in your uploads, from missing data to a drop in response volume
Improved Example Comments in the Theme Editor: Themes editor example comments now fall back to looking at all data!
I've broken down the finer details in each section below, along with a couple of how to videos!
Theme Discovery workflow
Thematic is fantastic at categorizing your feedback into themes and sub-themes: a taxonomy that makes it possible to surface issues and navigate your data.
But what happens when a new theme arises in your data - not just a rare theme on the rise, but something completely new?
Let's use Duolingo as an example. Last year, Duolingo decided to remove audio lessons from the app, generating a TON of reviews complaining about the change.
We'd expect a feedback taxonomy for Duolingo to have an 'audio lessons' sub-theme, perhaps under a 'features' base theme. But not a 'removed audio lessons' theme - necessary for specifying all responses reacting to the feature change.
This is where Thematic's Theme Discovery workflow can help you out. You can set up notifications - weekly, or monthly - to alert you of any new themes in your incoming feedback data.
Then, you can review the new themes and choose whether or not to add them to your existing theme structure.
Keep in mind that adding new themes can alter the analysis you've previously shared, or other users have logged in and seen.
For example, adding Duolingo's new sub-theme 'removed audio lessons' under 'features' makes it more accurate, but also increases its volume, which could make previous reporting on features seem inaccurate.
But generally adding new themes is worth the changes to historical analysis because:
New themes help uncover new insightful topics and lead to better overall accuracy
Both older and more recent data is analyzed with the same themes list, so you're still able to trend between new and older data effectively.
Anyone with theme editor permissions can receive Theme Discovery notifications.
Advanced Search
Now you can make complex searches using logical operators (AND, OR, NOT) and brackets! This makes it even easier to filter your data so you can focus on the specifics that matter most to you.
Need to identify customer responses mentioning both "price" and "quality"? Enter price AND quality into the search box.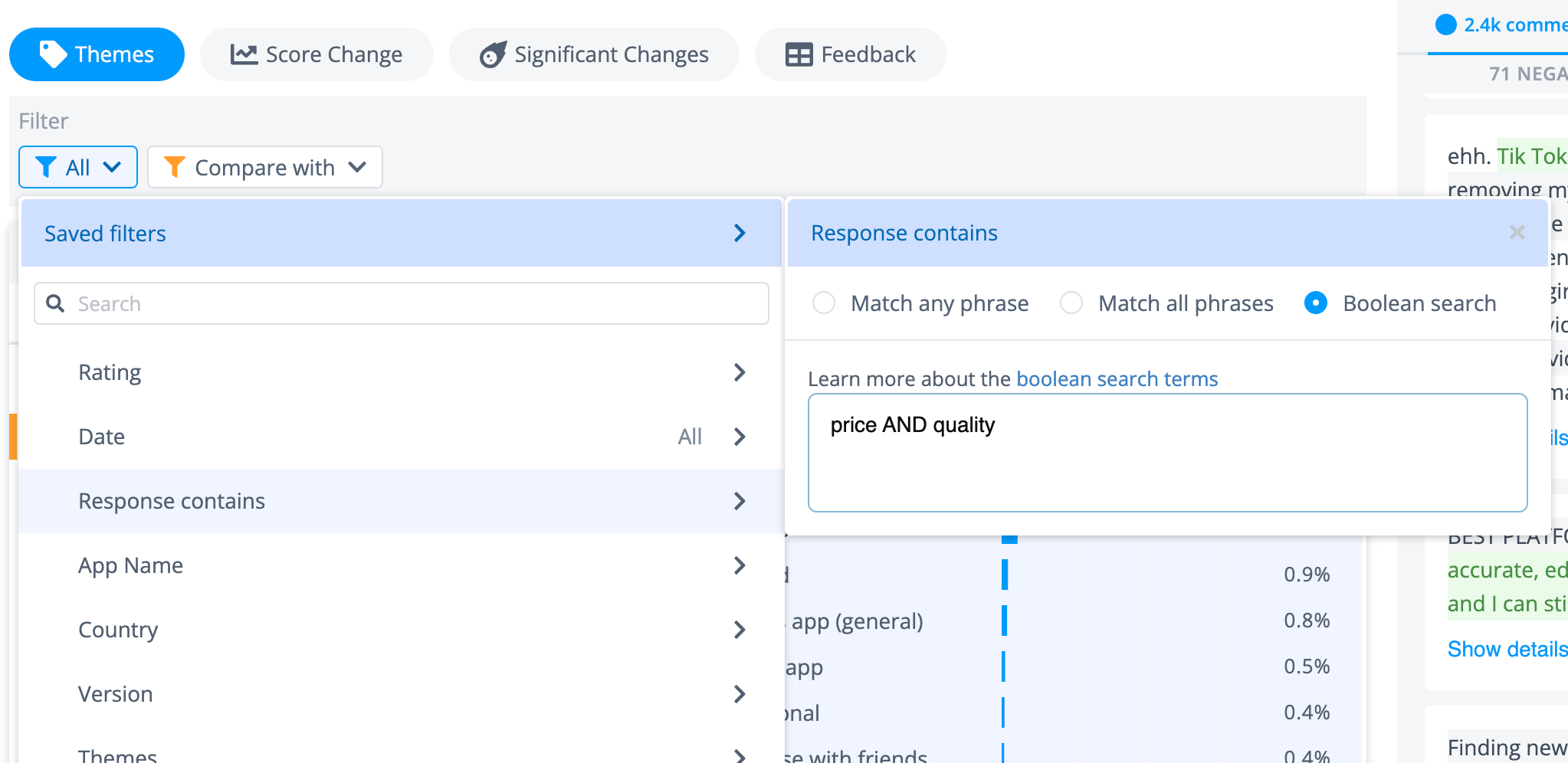 Looking for feedback discussing either "delivery" or "shipping"? Try delivery OR shipping in the search box.
Want to exclude responses mentioning "refund" - use NOT refund.
Need to focus on comments about "customer service" without mentioning "email"? Enter customer service AND NOT email into search.
Get as detailed as you need by combining multiple conditions, eg (price OR cost) AND (quality OR durability).
Data Volume alerting workflow
In Thematic, feedback data flows in continuously, via integrations and API. But sometimes data syncs fail, and these can take time to detect.
We've now enabled monitoring, so that if data isn't flowing in as expected for a dataset, admins and customer service representatives are alerted via email or Slack.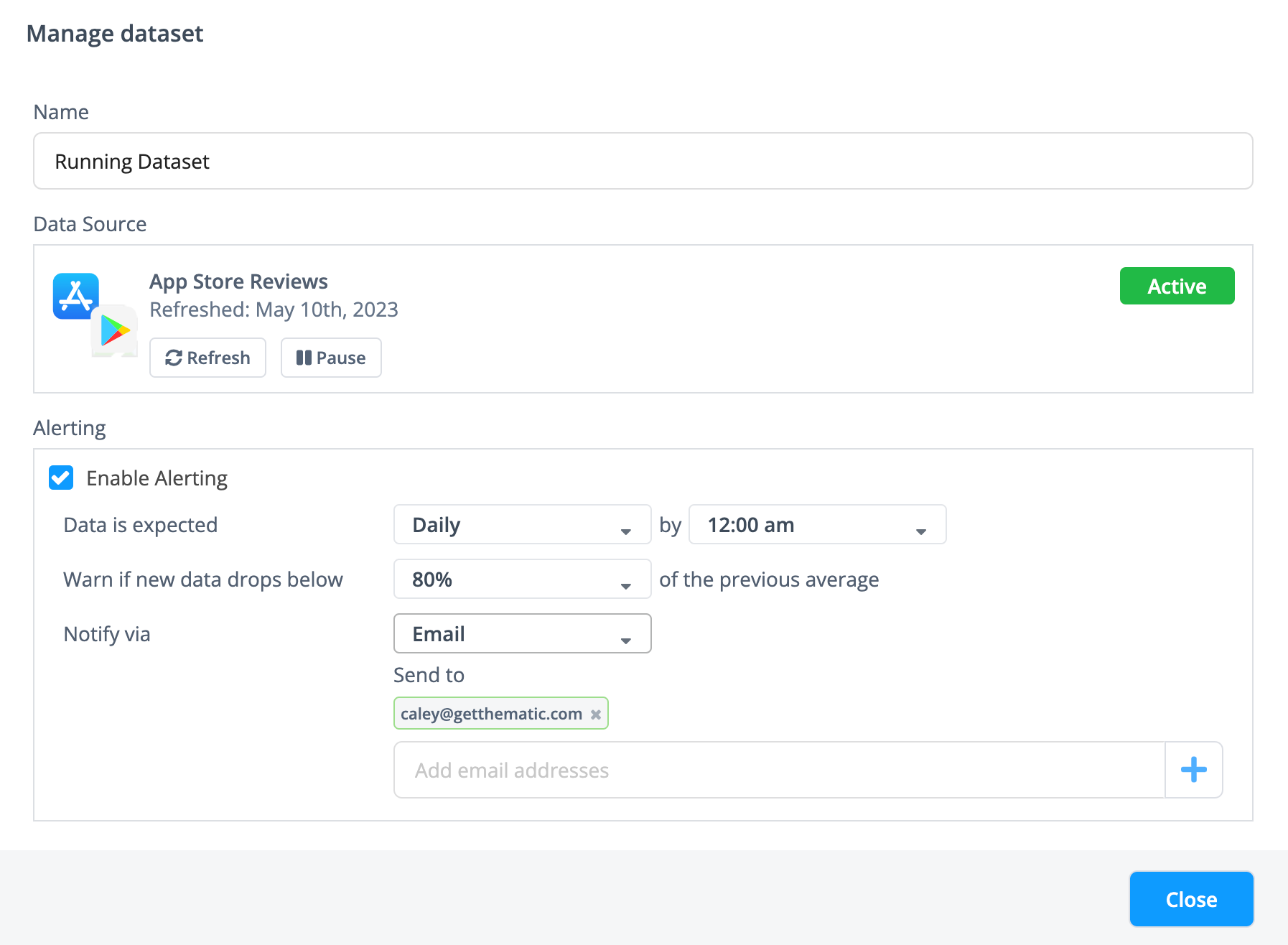 Thematic compares the amount of data uploaded in the current period with the previous average.  It will send an alert if it is outside the accepted lower boundary, or if the data integration fails. This means that if there's an issue, you'll know, and be able to work with us to fix it fast.
Improved Example Comments in the Theme Editor
We are excited to announce a major improvement to the Themes Editor: example comments now fall back to looking at all data!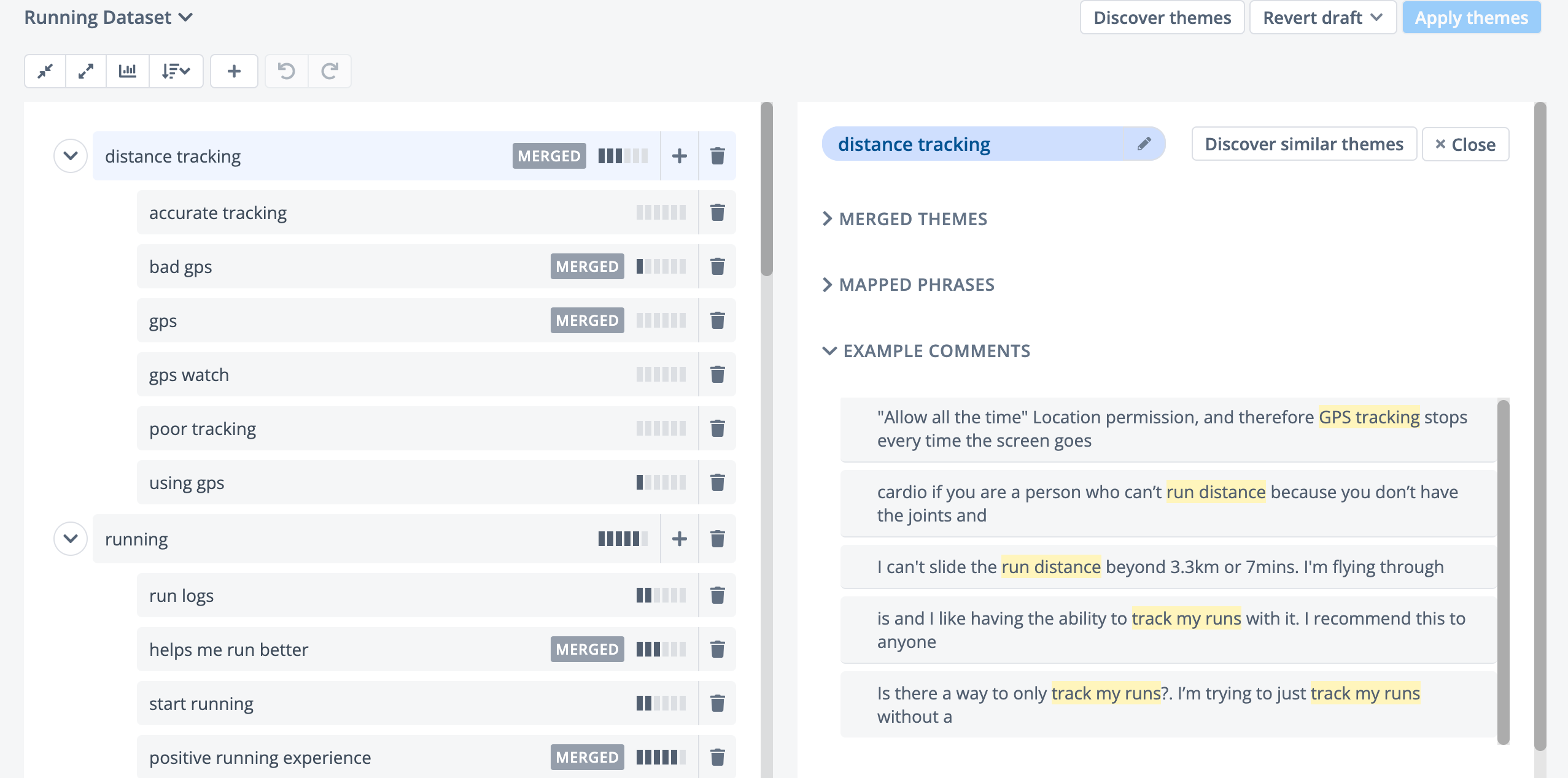 Previously, the Themes Editor would download 10,000 comments and check mapped phrases against them. This worked well for small datasets, but for larger datasets, the chances of finding a match were low.
Now, the Themes Editor checks 10,000 comments, and if no matches are found, it asks the backend for comments that match the mapped phrases.
This means that the Themes Editor will now be able to find matches for mapped phrases in much larger datasets without slowing down the process. This will greatly improve the process for our customers with large datasets.
---
It's a lot to take in - but we hope you enjoy these feature improvements. They're all aimed at helping you get even more out of your data, as well as making your experience using Thematic as awesome as possible.
Take these features for a spin the next time you log in to Thematic. We welcome all feedback (of course we do, we're all about feedback!) so feel free to reach out to your CS rep, or comment in our LinkedIn group!