The best dating apps 2018 ranked - which one finds you the big love?
I can't deny feeling like channelling Carrie Bradshaw, as I sit in front of my MacBook, feverishly typing this post, sipping on my black coffee and thinking back to past dating experiences. Well, Carrie did not have the luxury of using the plethora of dating apps we do today. She didn't have to – living in the dating mecca that is New York City, and having a Mr Big pretty much around every corner.
Today, there are just too many apps to choose from. And dating online isn't always a dance on roses. If you, like me, have been a swiper (swiping left or right) you know what I am talking about.
Yes, it can be awkward (your date shows up and they look NOTHING like their picture, plus the conversation is as fun as watching paint dry, and you're stuck wondering when is a polite enough time to pull your "oh my friend had a pet-related emergency" excuse. (They'll never see through that one). But, it can also be a lot of fun.
I've met a lot of fab people I would have never met otherwise, so personally, I am all for dating apps. Okay, with a couple caveats, which I'll get to later.
We analyzed over 13,000 online dating app reviews
We've used the AI powers and the powerful visualizations of Thematic, to analyze app reviews (13,000 of them, publicly available online) for the biggest dating apps; Tinder, Bumble, Happn, eHarmony and Badoo, in the biggest/most used markets: USA, Great Britain, Canada, Australia and New Zealand, and here's what we found.
Our sample findings:
Tinder has significantly more app crashes, although seems best at finding "the love of my life"
eHarmony has the least matches overall, especially in Canada
Australian women more often make the first move
Which dating app ranks the best?
Judging by the ratings for the online reviews in 2018, we've ranked the apps from 1-5 (1 being the lowest, and 5 being the highest), and this is how they fared:
Happn (3.8)
Badoo (3.8)
Tinder (2.9)
Bumble (2.5)
eHarmony (1.9)
So we have a joint first place, Happn and Badoo is where most of our reviewers like to hang out. Seemingly, eHarmony does not get a great score (ouch!).
Almost everyone has a dating profile these days?
In 2018, the number of online dating users in USA was a staggering 294m, with the number of users expected to rise to 331.3m by 2022. (Compare this to the US population which was 325m in 2017, and I'm guessing most people have more than one profile? That alone is cause for concern.)
Of course, the high dating profile numbers should be no surprise. Browsing profiles isn't nearly as time-consuming (or intimidating) as mixing with people in a real social context. With real people… *shiver*.
And people are splashing the cash on finding a partner – big time. Revenue in the online dating segment amounts to US$1,380m in 2018, and is expected to grow to US$1,610m by 2022. In global comparison, USA spends the most on online dating overall (US$590m in 2018) according to Statista.
Which app is the worst for finding matches?
By using a dating app, are you guaranteed to "match" with someone? Um, no. Although some people seem to think so, especially when looking at the reviews of those who have purchased the paid services.
If we look at the themes* (a theme is a topic that can be expressed in various ways) of "not enough matches" in the data, across all apps and locations, we can see that eHarmony significantly loses out here. The result is the same for people who have given it 1 and 2 stars and for all other scores.
Here, our graph shows the results of the 1 and 2-star reviews, so we can see that this theme is something people are definitely not happy about.

Why is this so? If we look at some of the comments people have left for eHarmony, it seems their expectations do not live up to what the app delivers. Some comments are a bit too racy for me to replicate here, (although hilarious!) but as some users explained:
"I'm not too fussy but very few appropriate matches seem to be provided and in fact the added what ifs are a better match. Will not be renewing and would definitely NOT recommend. eHarmony for all its marketing appears to be a company that 'talk the talk' but can't 'walk the walk'".

"I'm not satisfied with the number of matches. Although I have adjusted all my criteria, i.e. age, distance, smoker/ non-smoker, race, etc, the matches are not enough, and certainly not what I am looking for. I am really disappointed that I paid as much as I did to be a member."
Where are most of the disgruntled and unmatched eHarmony users located?
It seems Canadians are the most unlucky to match, closely followed by those in Great Britain.
Across all apps and locations, the theme of "not enough matches" is fairly evenly spread, for the 1 and 2-star reviews, with Great Britain and Canada leading the way.
The US seems to be quite good at finding matches, as they are last on this list, so could this mean they are less picky?

App crashes ruining chances of finding love
Ever used an app and it keeps crashing constantly? Grrr, we've all been there and your patience wears thin to the point where you just give up. Seemingly, Tinder is the most frustrating app to use, as significantly more reviewers have mentioned "app crashes" in their 1 and 2-star reviews, than any of the other apps.

And if you're in New Zealand, we're guessing this happens to you – a LOT.
For some reason, kiwis experience more app crashes than people in other countries. Could this be because it's a smaller market and Tinder has not invested enough into functionalities?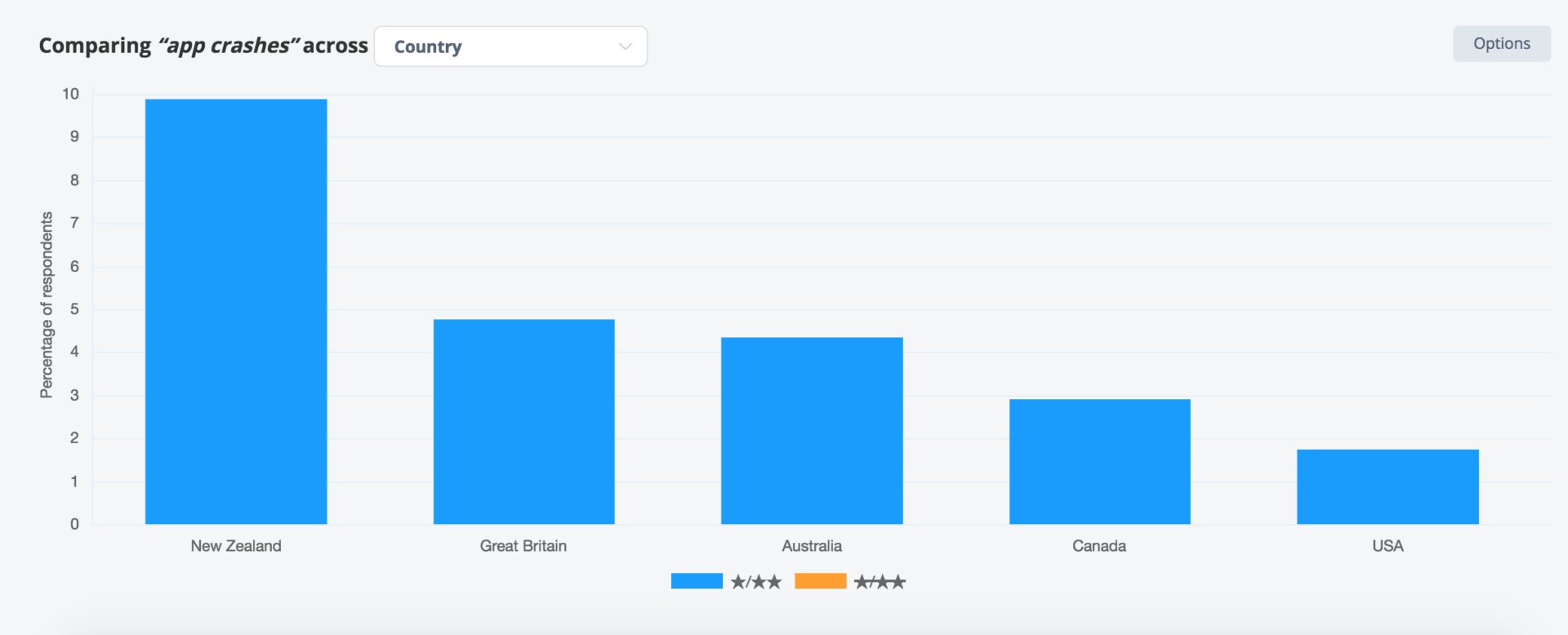 This is true for the people who have given 1 and 2 stars, but also across all star ratings. Some of the reviewers say:
"The app crashes within seconds of being opened. I've deleted and downloaded [it]again three times yet it still does the same thing. I'm not even able to create an account."

"Won't load matches & keeps crashing whenever I try to open a message or press "like" on a profile. Restarted phone and deleted the app twice to download it again but it's still doing the same thing! 😡😡"

"Not a fan at all! After about 2 clicks it crashes every time and I open the app again start swiping and it crashes again! Tempted to delete!"
Customer service not up to scratch
People are not fans of eHarmony's customer service, and Tinder is a close second, possibly because of those app crashes, I'm guessing.

User beware: fake profiles alert!
There seem to be quite a few fakes lurking around, with Bumble taking the lead amongst the fake profiles, and Badoo a close second.

These fakes seem to be situated mostly in NZ and Australia, interestingly. Is there a stigma around online dating or are people mostly playing around on the apps for sheer entertainment?

Or, is this because of fear of possibly appearing too desperate (to appear with your real profile)? In 2015, the Pew Research Center found that 23% think those who date online are desperate (ouch). However, that number has gone down a good bit. In 2005, it was 29%, so people are becoming more open to the idea of finding love online.
Premium service not worth the money
Do people think spending money on dating apps is a good investment? If we look at how many people have mentioned "waste of money", we can see that eHarmony is the "winner" (or rather, loser) in this category, and significantly so.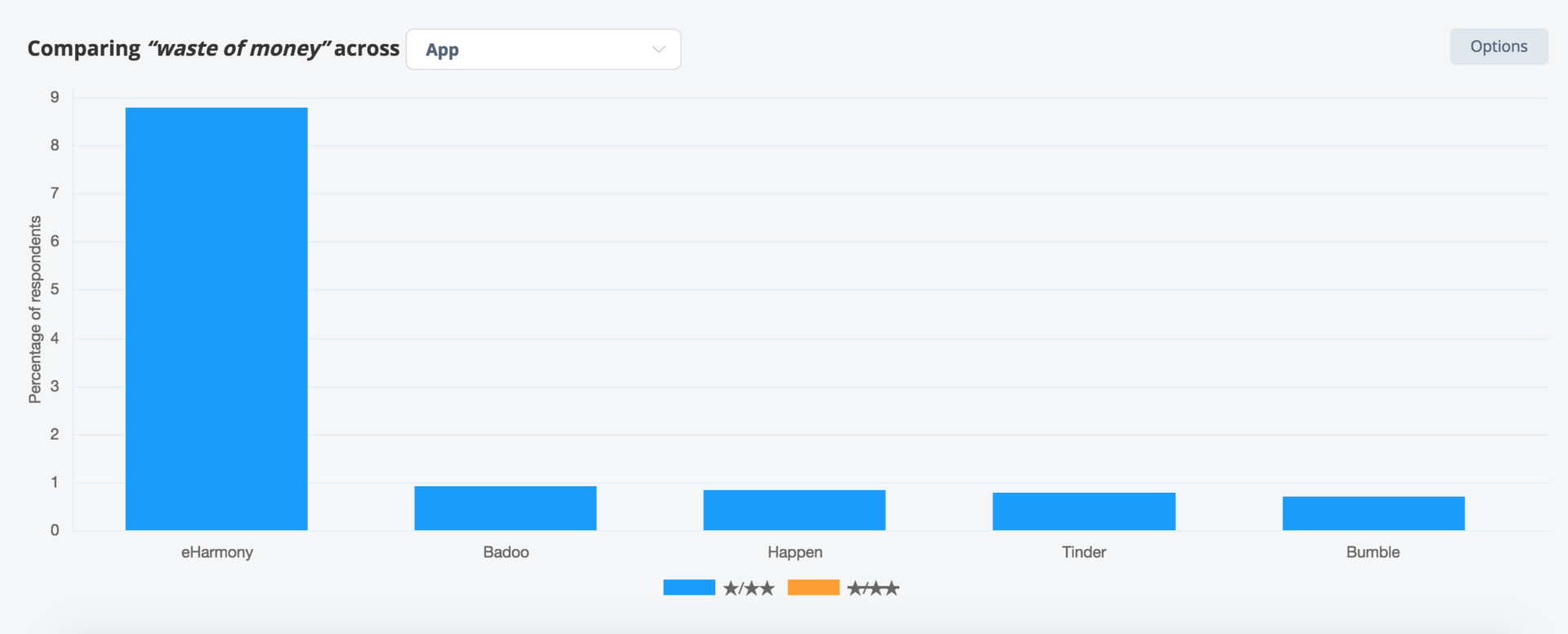 As this is such a big difference to the other apps, I got my Sherlock Holmes-mode on and was keen to investigate further.
One angry customer review says:
"The app is terrible! And eHarmony does not work! It is not the be all and end-all of online dating!!! 3 years a complete utter waste of money & now they won't let me cancel my subscription! DON'T BOTHER!!! Ask your friends to introduce to people instead!"
And another:
"This is the worst online dating app on the market hands down! I would give negative stars if i was able to. Way overpriced for what you receive. […] Save your money. eHarmony sort out your prices for the poor service that you're currently providing."
But it's not all bad news, one happy camper who gave 5 stars says:
"I love it, it easy to use. The money is well worth it I have no complaints!"
We can see that overall, there are many more 1 and 2 stars (4870) reviews than 4 and 5 stars (1024), so when people mention "waste of money", they are generally unhappy with the service.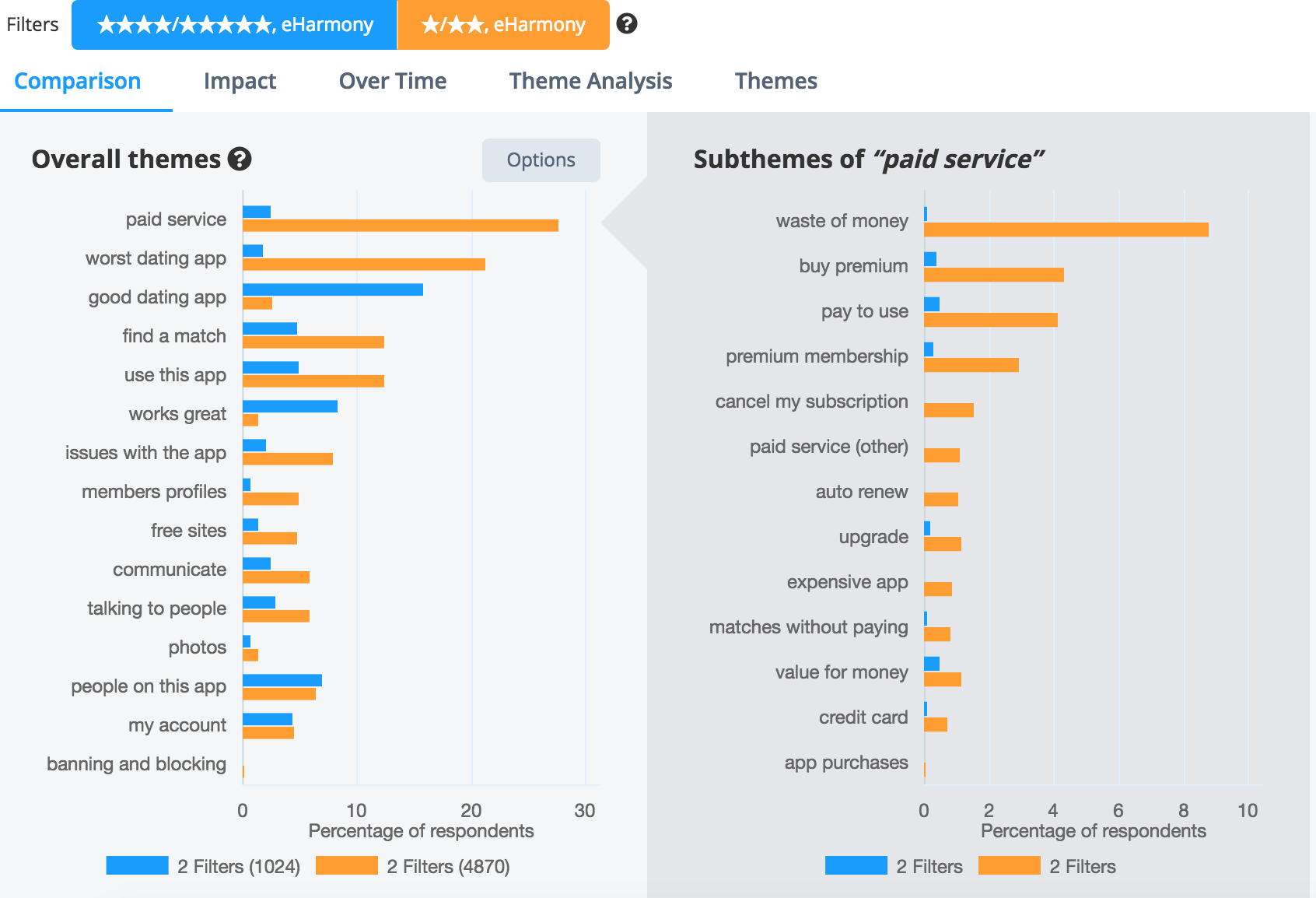 If we look at why people don't like it, people are generally complaining about the paid service (28% of all respondents), and as many as 21% of respondents say it's the "worst dating app". But 16% mention "good dating app" amongst the 4 and 5-star reviews, so some people have clearly had luck in using it.
It's clearly a love or hate scenario, as one user who gave a 4-star review, put it:
"People love it or hate it. I love it because in this app the majority is looking for a lasting relationship. Pictures, profile, and questions help you find possible matches but the rest is up to you."
Even though eHarmony gets a lot of slack, one user clearly hit jackpot:
"I loved this app and it led me to meet the man I'm going to marry! […] Looking back on our profiles, we also were very true to who we are as people and we both put in the time and effort to find "the one", as with other dating apps you get out of it what you put into it. As far as the matches go, I noticed on other apps that people were looking for hookups pretty often, while on eHarmony they were looking for long-term relationships. […]"
What people like about the apps
I've talked a lot about what people are complaining about, but granted, there are lots of positive reviews out there as well!
Amongst all apps, people who gave 4 and 5-star reviews seem to like that women make the first move in Australia, on Bumble, which is the only app where this happens.

So, lots of people (in mostly Australia) seem to like this feature, but are we ladies ready to take the initiative in a general sense, or do we still stick to our traditional roles? As one Bumble user puts it:
"I actually want Bumble to be better than Tinder but the only advantage it has over Tinder is that Bumble matches are deleted automatically owing to female passivity. […] Despite liking me first, the vast majority of matches will be deleted owing to women not sending opening messages."
The most genuine people in the UK
The most genuine people like to hang out on Bumble, which wins by a long shot. Interestingly, no reviews had mentioned this theme for eHarmony or Tinder.

And these genuine people seem to hang out in the UK, as our reviewers mention them there.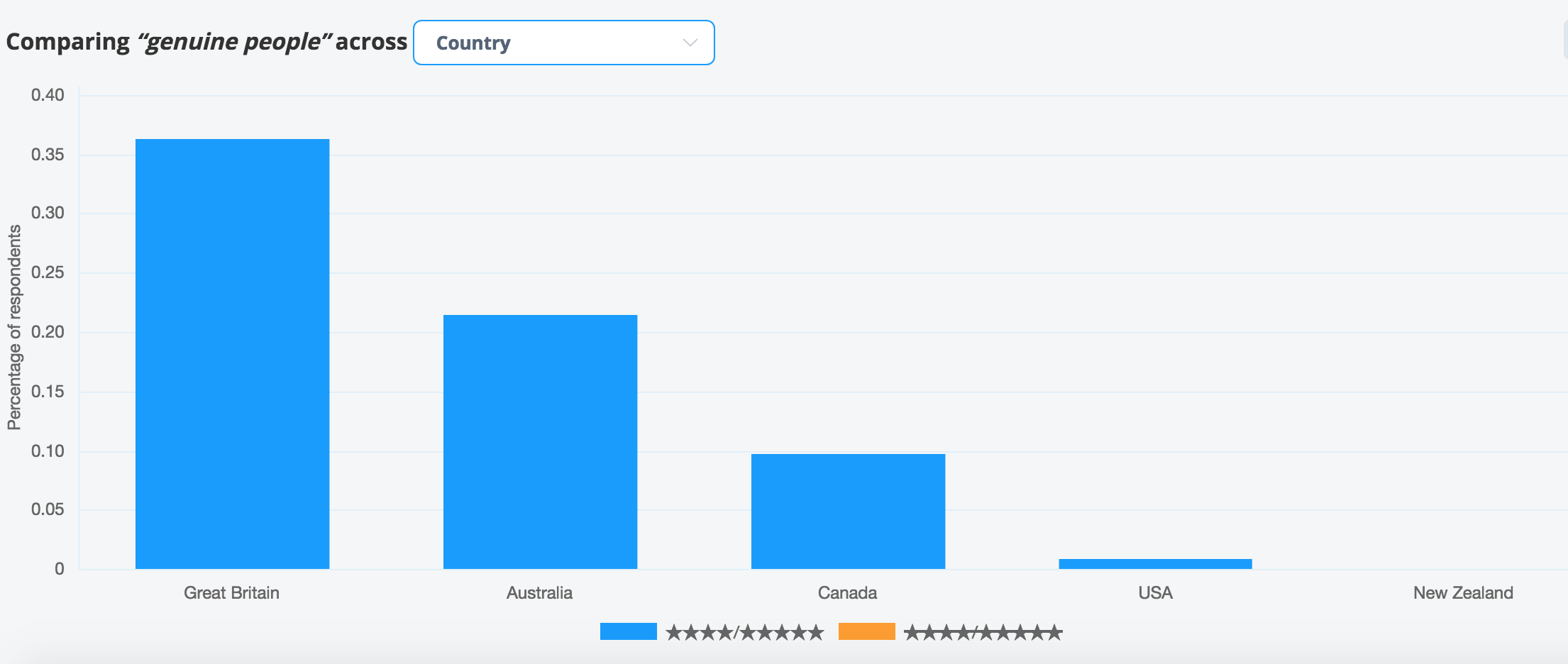 Continuing on in this fashion, when looking at positive reviews, people have rated Bumble as the winner when it comes to "people on this app".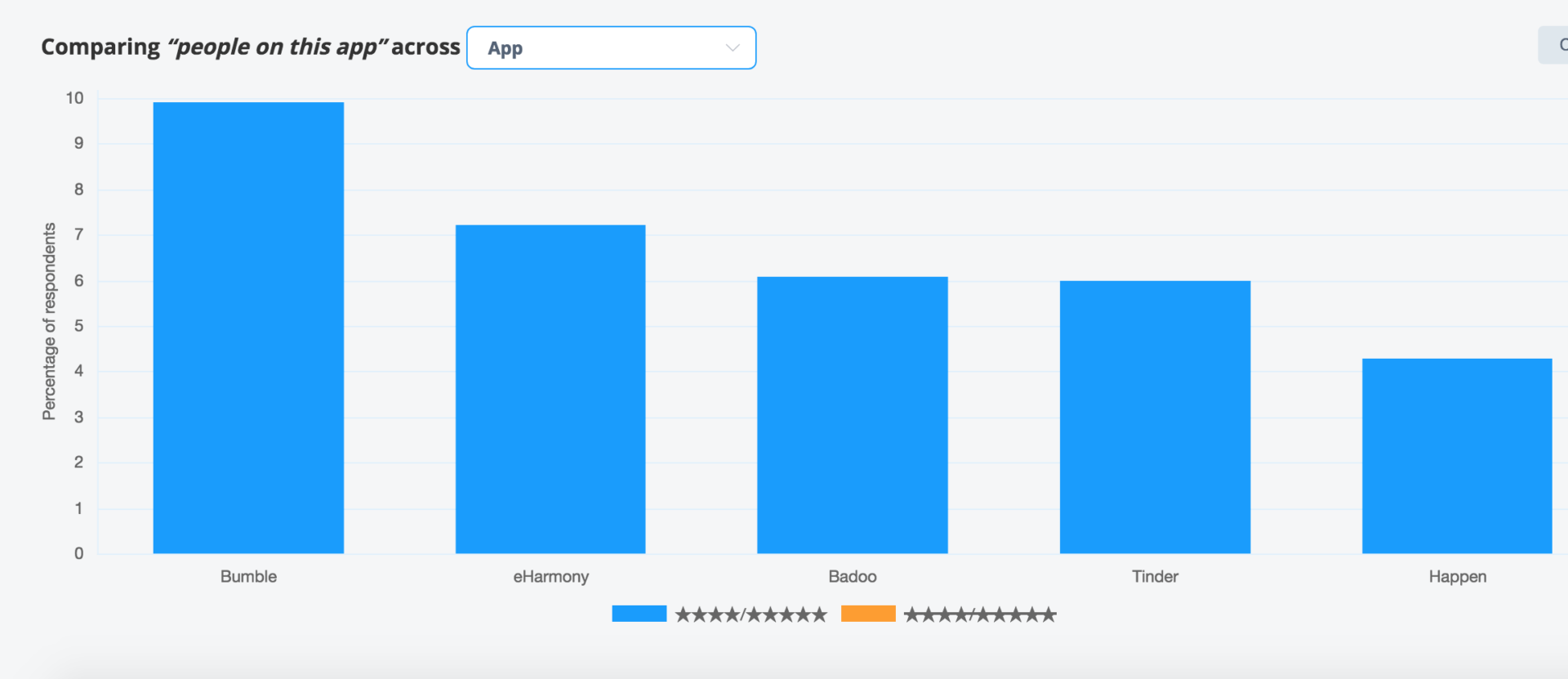 As one user puts it:
"So easy to use, met great people, exciting and fun!"
Looking for love… or just a bit of fun?
My only caveat in relation to dating apps, apart from the occasional cringe-worthiness, is that often (as in real-world first encounters), both parties might have different views of what they are looking for. So, I was very interested in the intent of users, especially based on gender, but could not find this specifically in the data.
I had to take my Sherlock Holmes antennas elsewhere.
In the US, an April 2017 survey showed that as many as 84% users said they were using online dating services and apps to look for a romantic relationship. As many as 43% used it for friendly contact and only 24% said they use apps explicitly for sexual encounters. Well, that seems quite promising in terms of looking for real love.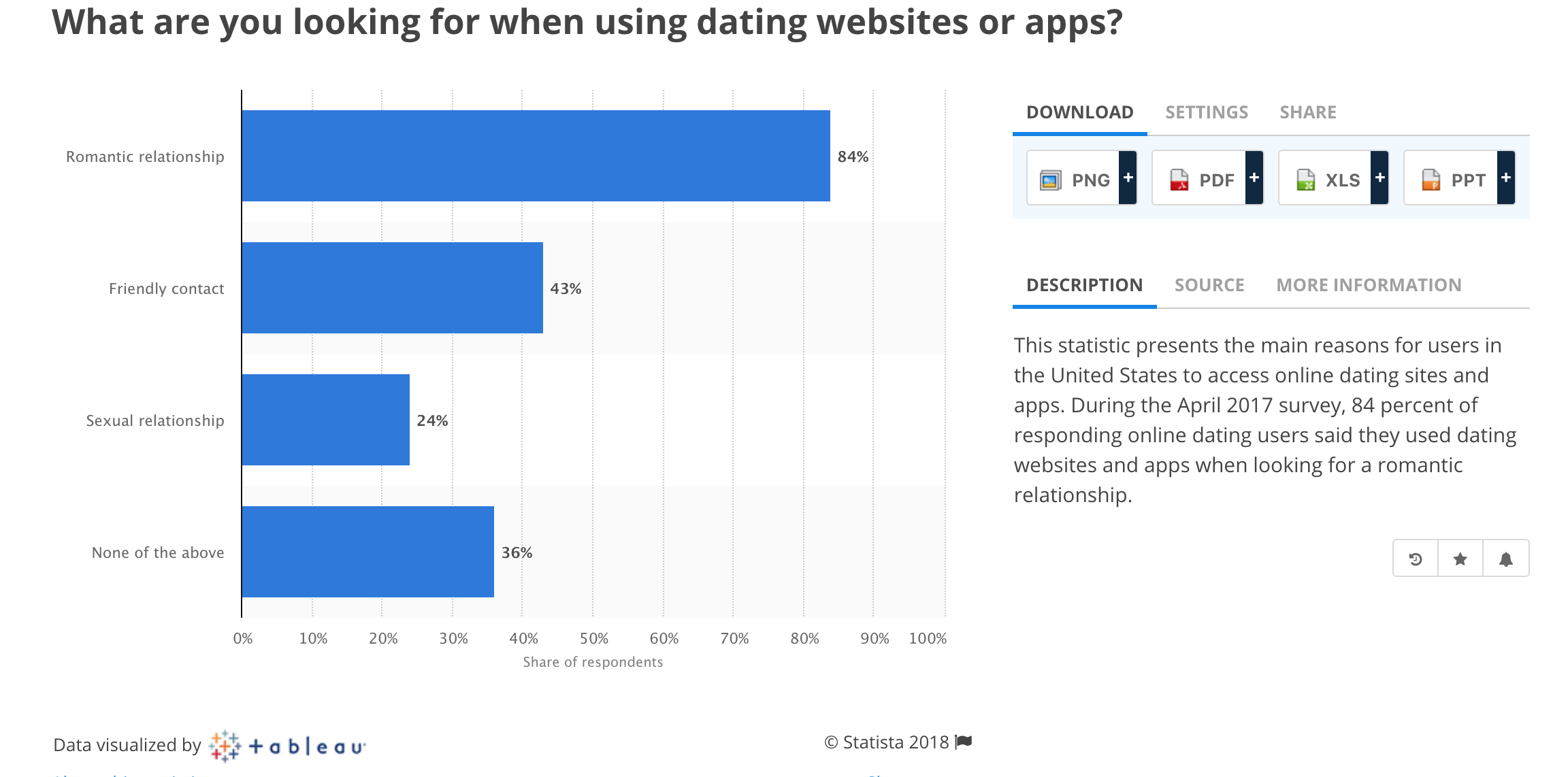 These stats would be even more interesting, if we could break them down by gender, for different types of apps. Oh well, next time.
And even though we often read dismal stats and online dating stories, apparently, as many as 20% of current committed relationships started online (Statistic Brain). And, the same study says as many as 17% of marriages started online.
Did anyone find the big love using a dating app?
So, I wonder if we can find anything in our reviews about finding the one?
Boom. 24 people said they "met the love of my life", with the majority residing in the UK.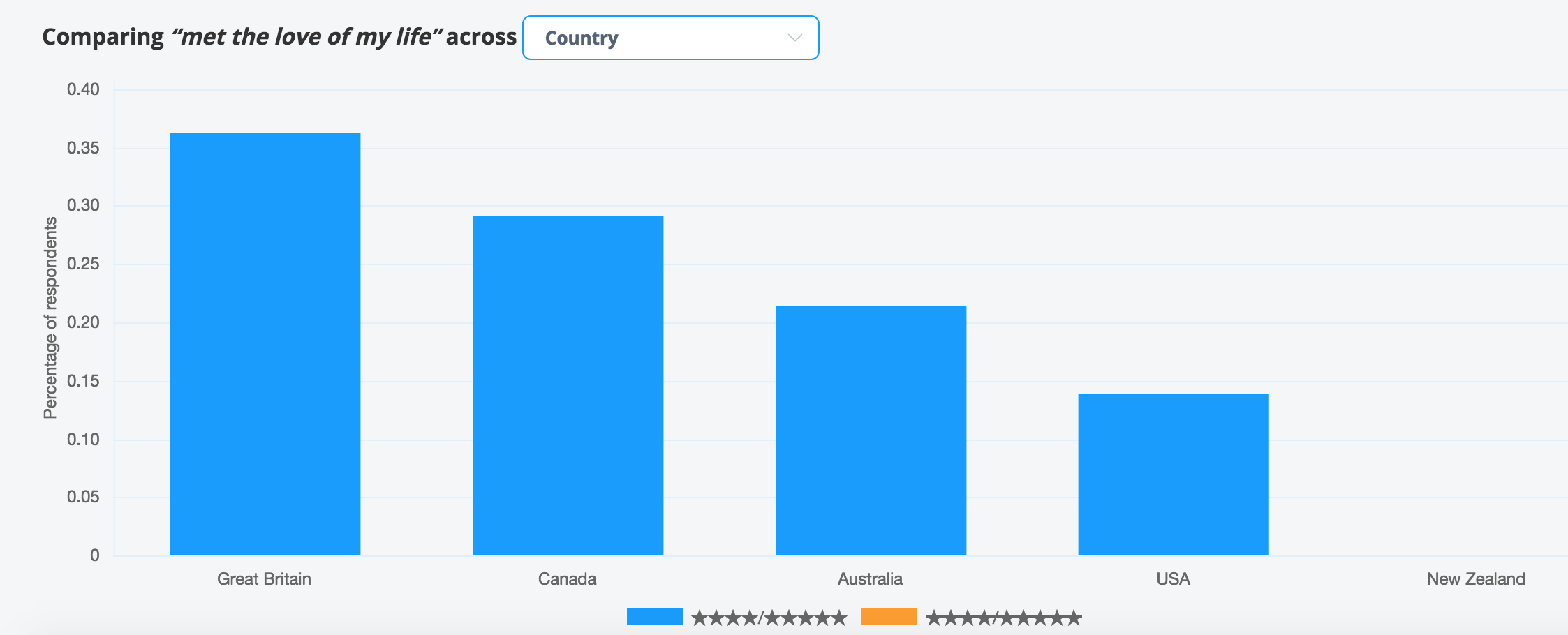 And it was on… drumroll, please…
Tinder!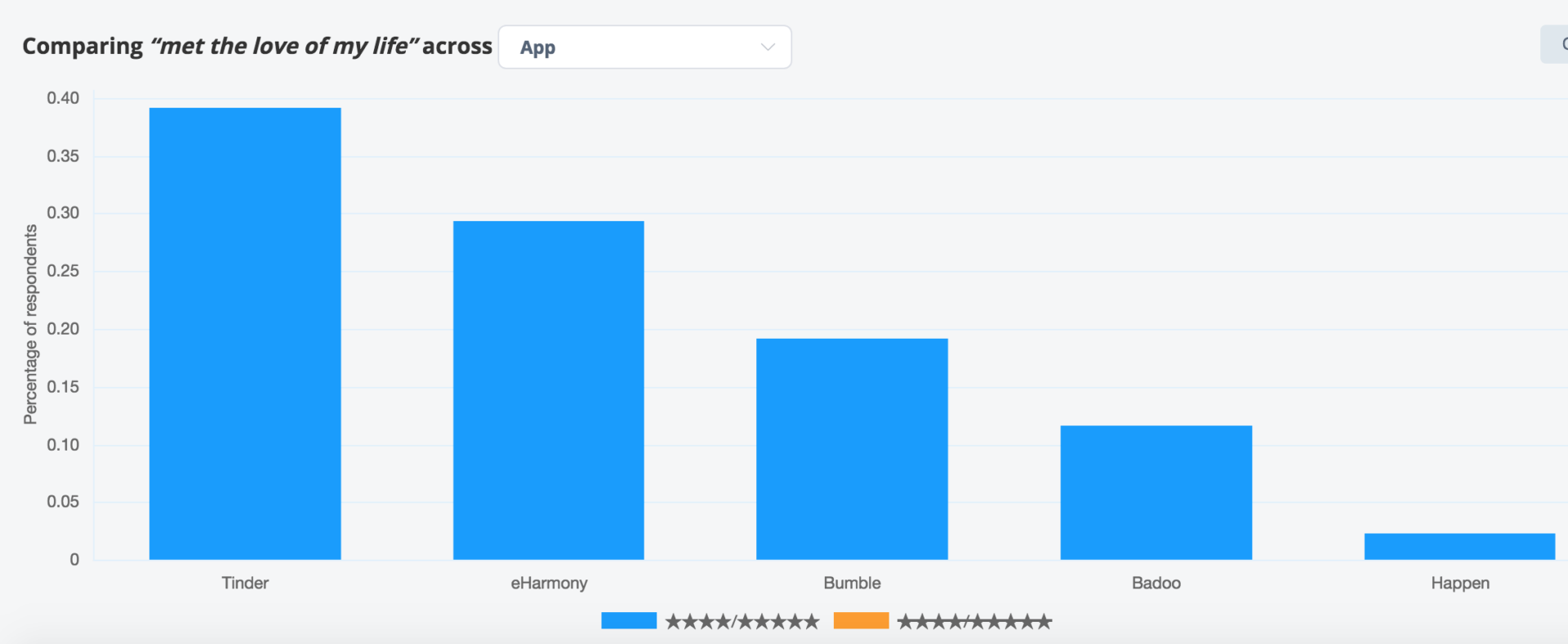 In addition, 9 lucky people in the US said they "found the love of my life".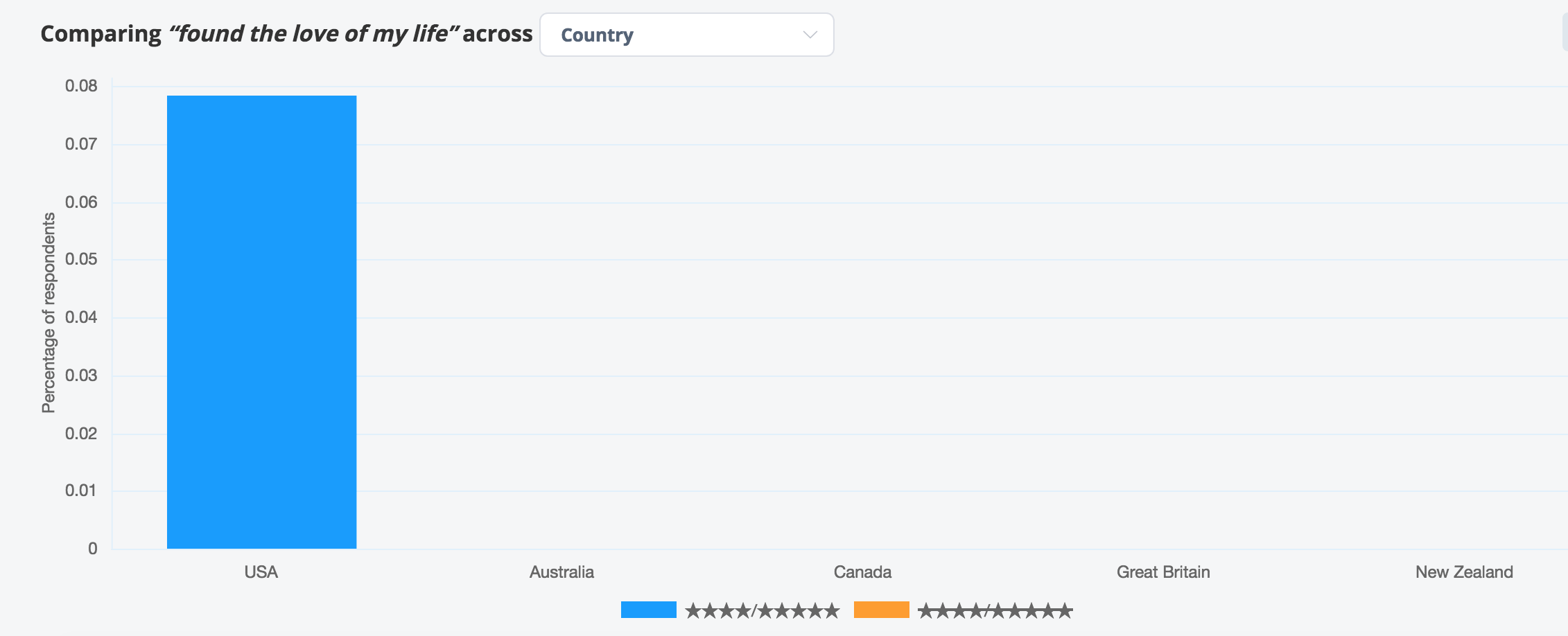 On eHarmony!

If you're on a dating app – don't give up!
Sure, it can be a bit awkward sometimes, but don't let that deter you. Stats show 10% of online daters quit after three months (Statistic Brain).
According to a new survey conducted by SimpleTexting (shared by Bustle) 15% of couples who've met on a dating service have been seeing each other for over a year, and 13.% are engaged or married. So it's definitely not just for "hookups".
Also, over 44% of women and 38% of men are looking for serious, long-term relationships when using a dating service, whereas only 22% of men and 14% of women are looking for something more casual.
So, If you stick it out, maybe you too can find true love (cue: "I will always love you" by Whitney Houston)!
*Thematic analyses and categorizes text using a set of themes it creates for each data set. These themes are organized in a system of base and sub-themes. Base themes are general concepts or topics, while sub-themes are more specific.