Introducing Chat Analytics - Analyze chat & support conversations in Thematic
It's been a couple of months since our last product announcement. We are itching to share a big new release, and share with you some of the other cool product updates that are now live.
Introducing Chat Analytics
Chat Analytics is now available for Thematic customers!

With this new release, you can anonymize and aggregate chat conversations and support tickets automatically. Uncover, track and act on themes and sentiment across all product and customer experiences.
Thematic uses its powerful thematic analysis engine on conversational data such as bot or live-agent dialogues, in addition to more traditional support feedback like customer support tickets, allowing you to automatically detect and understand themes and sentiment within the conversations between your customers and employees.
Why Chat Analytics?
Chat analytics makes it easy to identify the main reasons your customers are looking for support. This helps you get to the root cause of bad experiences.
You can quickly uncover the requests that agents take the most time to resolve and improve the bottlenecks in your support center.
From service recovery to upsell opportunities, you'll automatically know which customers to target, which features to include in the roadmap, which bugs to fix and what to upsell.
Product managers and Customer Experience teams have only recently discovered the wealth of insights hidden in support chats. Automatically analyzing this unstructured data gives teams precise and instant direction to prioritize product roadmaps, reduce customer churn and pick up emerging issues that affect customers.
But analyzing this data at scale is tricky!
Chats are significantly more complex than survey feedback. Instead of a neatly packaged response with a score assigned, chats contain a lot of back and forth, where useful insights are buried in other data and need special processes to be discovered.
We are proud to be pioneering in this space!
Here's how Chat Analytics works in detail

1. Connect

Using our new Zendesk & Intercom integrations, you can pull all of your support chat and tickets into Thematic for analysis. Of course, we can also connect support feedback from your other platforms, as well as social media, online reviews and other unstructured data. To get deeper insights from your conversational data, you can integrate and analyze your structured data with Thematic too.
2. Pre-process

Thematic's chat analytics cleans and anonymizes your data as it comes in - we remove personally identifiable information such as names and emails, so that they aren't displayed or included in any analysis. This cleaning happens before the data is stored for maximum security and privacy.

We then detect and ignore pre-canned responses ("What issue are you contacting us about?") and commonly reused text ("Have a nice day!"). And we can skip through bot and agent responses to help you focus on customer needs.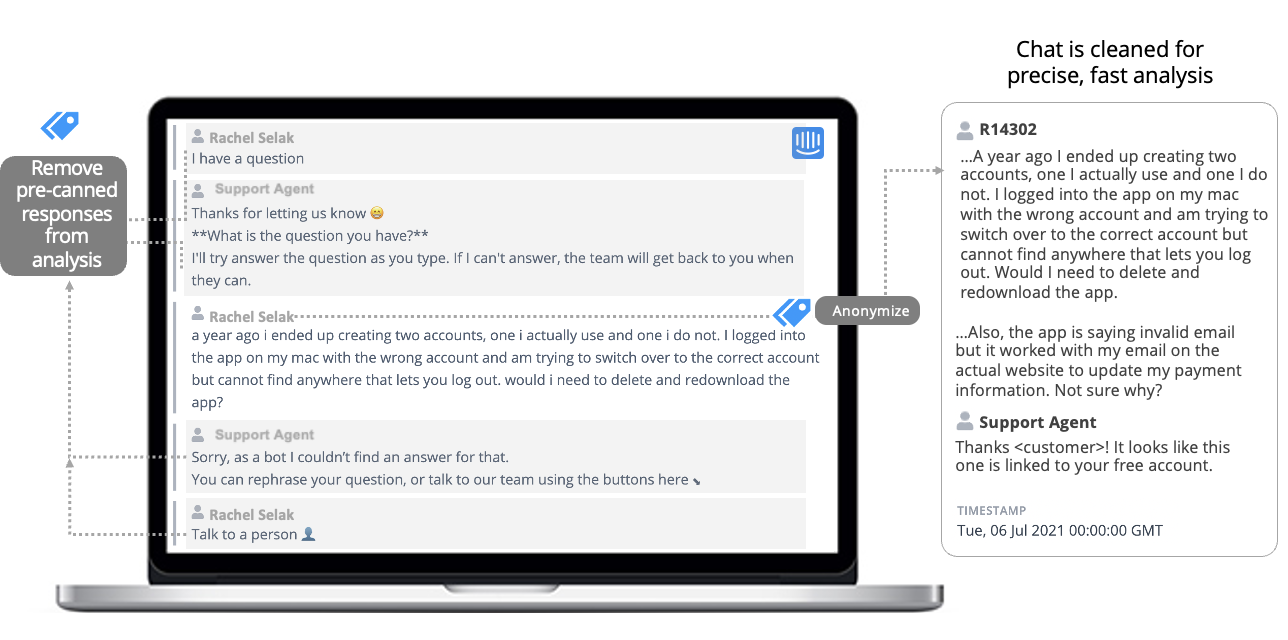 3. Analyze

Thematic automatically tags and labels conversation data with themes (no training required!) sentiment, and keeps the analysis up to date as new support requests flow in. What this means is that as new data comes into Thematic, your theme structure is automatically updated, ensuring new and emerging themes are uncovered effortlessly.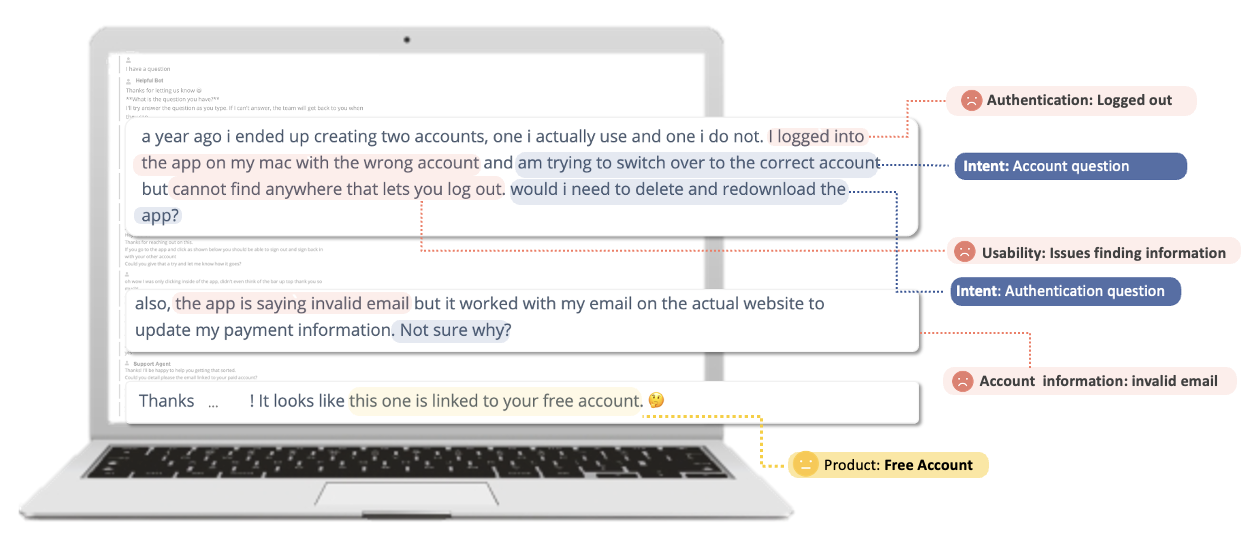 4. Share

Identify and share product or experience issues fast. Sending notifications to the product team for immediate triage and resolution is key! As with all our feedback analysis, Thematic identifies escalation of themes, whether they're known or emerging. Customers are already setting up email alerts, and can share to Slack once this is live  later this year.

To see how Thematic would work on your chat data, please reach out to Nick or Nicolas.. You can also get started with Thematic with a free demo and trial on your chat data.
You can now save your filters as segments
When filtering your feedback, you can now save that filter permanently for easy access. We call this creating a segment. Previously you had to select filters each time you wanted to look at a specific segment of your data. Now you can save, for example, an "East Coast" segment, so you don't have to manually select 5 cities each time you want to look at your East Coast audience segment.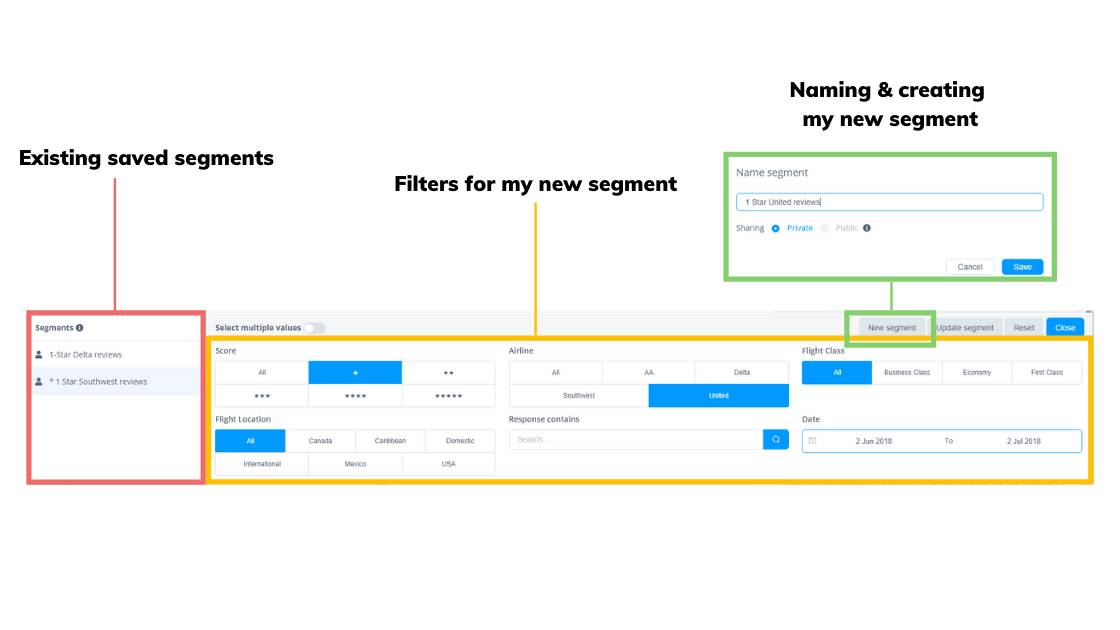 You can create private segments only visible to yourself, and admins can create public segments visible to the entire workspace.
Other live changes
You can now hover over your comments to get an immediate overview of the themes and sentiment detected in each sentence.

Based on feedback from users, we have given the sentiment filter a more prominent place in the UI.