Building a case for feedback analytics
One of the best things you can do to improve your bottom line is listen to your customers. According to Deloitte's research, customer-centric companies are 60% more profitable. Placing customer needs at the heart of your product strategy moves you that much closer to success.
It's easy to acknowledge the immense value of customer feedback. But it can be really challenging to analyze and best utilize your feedback, especially if you're dealing with large volumes of data.
Here's where feedback analytics software is your friend. A good solution will connect and aggregate all sources of feedback, and analyze it effectively. You can spend more time collaborating with your team and making improvements, and less time slogging through thousands of customer comments.
You might already be sold on feedback analytics software (welcome to the club!). But you're stuck, because you need to prove that feedback analytics is a worthwhile investment to your stakeholders, and other decision-makers in your company.
Here's where we come in. We've put together this list showing how feedback analytics can make a difference, to help you build a business case.
Five reasons to invest in feedback analytics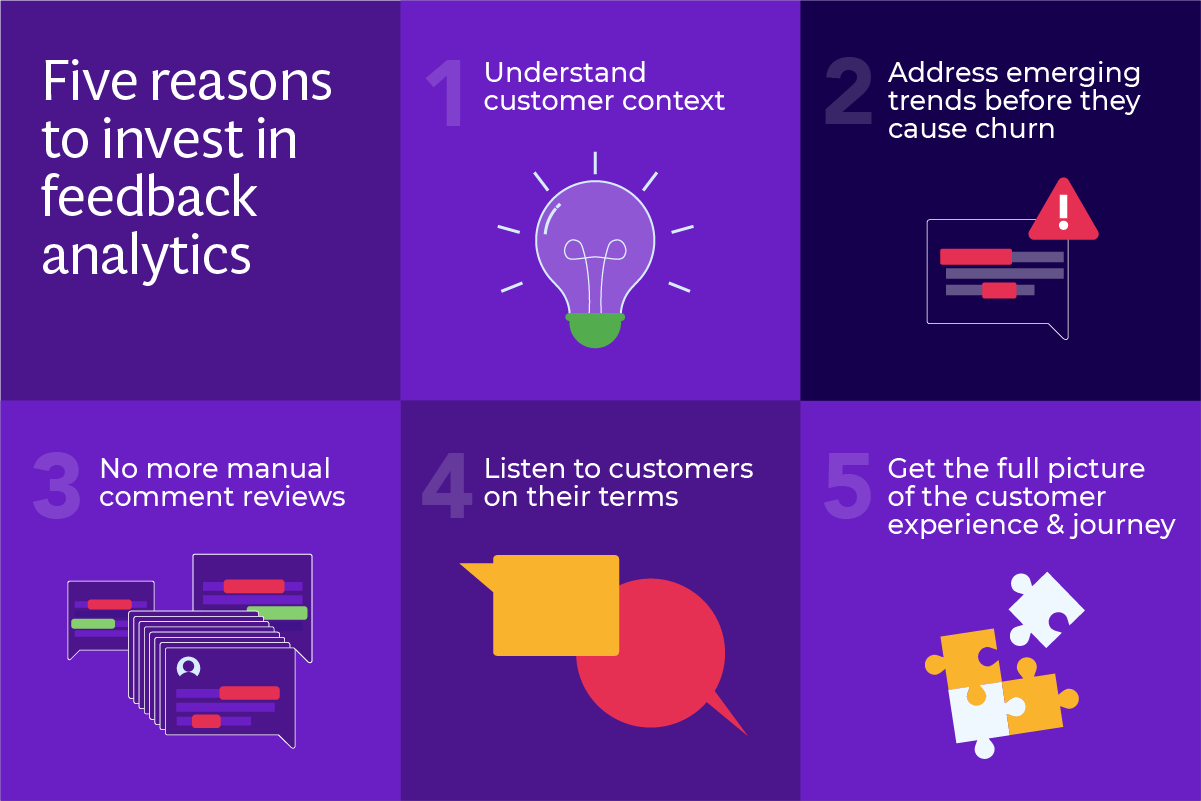 1. Understand customer context
Metrics go up, and metrics go down. Numbers on a dashboard provide a good indicator of various things going wrong - and going right - but they can't tell you why. They also can't tell you how to act, so you don't know how to move your numbers in a positive direction!
Feedback analytics provides customer context. It fills in the backstory for your quantitive data, so you know why metrics are rising and falling. With feedback analytics, you can:
see the root causes impacting customer experience scores and churn
instantly identify opportunities to drive growth and improve outcomes
unearth the customer segments most affected by key issues
eliminate the noise, and focus on what matters
2. Address emerging trends before they cause churn
With your analytics platform connected to all your sources of feedback, it's easy to keep your finger on the pulse. Manual analysis takes incredible amounts of time and effort. By the time you've identified a problem, your users have already moved on.
Surveys, social media and support conversations allow customers to share feedback quickly and easily. It should be just as easy for you to analyze the data coming in, and see issues emerging in real time, so you can take action. Feedback analytics makes this possible, especially when powered by AI.
3. No more manual comment reviews
We've already mentioned that manual analysis is hard work. Feedback analytics embodies the 'work smarter, not harder' ethos.
Skip the hard stuff, and get to the insights gold. Automated analysis doesn't just save time and effort - it makes your analysis consistent across channels.
The best solutions are transparent, so when you need to pull out a customer comment to illustrate an issue, they're right there, organized by theme.
In Thematic, we take this one step further with our chatGPT powered feature Theme Summary. When users review analyzed customer feedback, they often ask "What does this theme mean?" "What specifically do people say?"
Theme Summary provides an easy to read, accurate summary of a theme, so you can understand the gist without having to read all the comments!
4. Listen to customers on their terms
Surveys are great, especially when they're designed well. But customers tell you what they need across many different channels, and surveys are not a one stop shop. If you limit yourself to just one channel, you miss out on the full customer picture: you're only seeing what's said by customers who use that channel.
Leverage feedback analytics software to listen to what your customers are saying about you wherever they share it - social media, review sites, community chat and support conversations. This leads on to our last point:
5. Get the full picture of the customer experience and journey
Feedback analytics software shines when it comes to aggregating your customer insights from different sources. Say goodbye to data silos!
An automated solution gives you the best of both worlds: you still have the ability to segment customers by various demographics and feedback channel, but you can also clearly see the biggest issues impacting your customers overall.
Even better, you can use filters within your analytics platform to answer all sorts of questions, like 'what other issues are mentioned by customers complaining about our website?' and 'what impacts our users most in the US compared to the UK?'
Next steps
This is just a quick overview of the benefits of feedback analytics software. We also have a handy (and free!) editable deck that you can use to help build your business case. It contains statistics and testimonials that you can use to prove the value of feedback analytics software.
If you'd like to see how Thematic ticks all the boxes above - and more! - watch a demo video, or book a personalized run-through with our team. We'd be thrilled to show you round.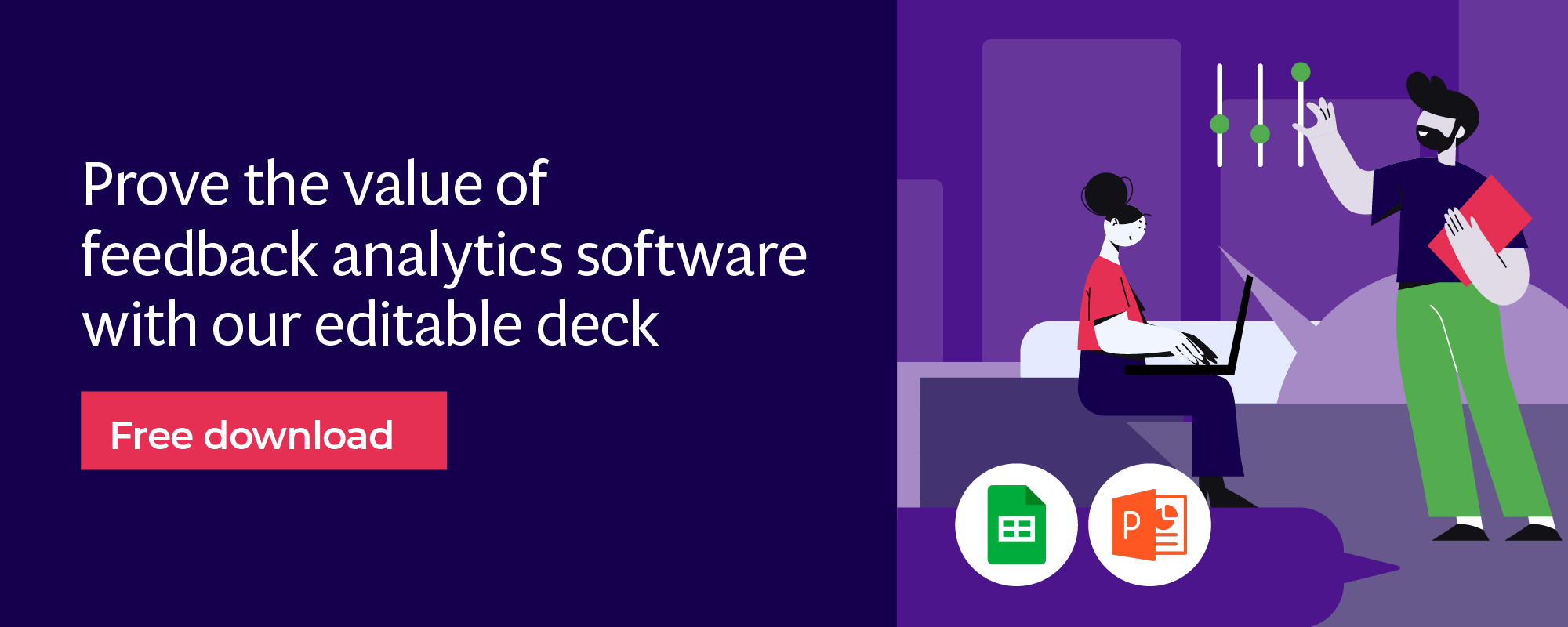 Further reading
Find out more about analyzing customer feedback in these guides:
We also have some free feedback tools and resources that may help you:
All the best on your quest for better, faster feedback analysis!