The best text analytics software platforms (2022)
When you've got big data, you need the right analytics tools to make sense of it!
We've pulled together this list of the best text analytics software platforms to help you decide on the right provider for your company.
Contents
What is text analytics?
Text analytics (also called text mining) is the process of extracting meaning from text.
A common example is analyzing text-based customer feedback, with the focus on finding common themes and trends. These themes and trends inform strategic action within a company, to improve their products and services.
What is text analytics software?
To supercharge efficiency - and analyze text at scale - companies use text analytics software. These platforms leverage machine learning and natural language processing algorithms to surface insights from massive amounts of text.
With AI doing the heavy lifting, you can focus on putting your insights to work.
Text analytics is complex, and not all solutions are equal. You could consider building an in-house solution - but this will take considerable time and resources. There are amazing platforms out there that will help you get the results you need faster.
Before you start looking, make sure you've nailed down the functionality and usability you need:
What are the core needs you expect text analysis software to address?
What insights are you looking to gain?
Will you be able to take action based on your results?
What are your deal breakers?
Keep your core needs in mind as you dive into our list of the best text analytics software platforms - after all, you don't want to end up with useless word clouds!
The best text analytics software platforms for 2022
---
#1 Thematic
Thematic - that's us! - is a text analytics platform built specifically to make sense of customer feedback. Your text data is transformed into actionable insights in real time, making it easy for everyone to make the right decisions.
With our easy-to-use, integrated platform, you can be up and running with specific themes within days, no matter how technical your product is. There's no need for manual coding or training. You can tailor themes to add business nuance: it's low effort and low maintenance.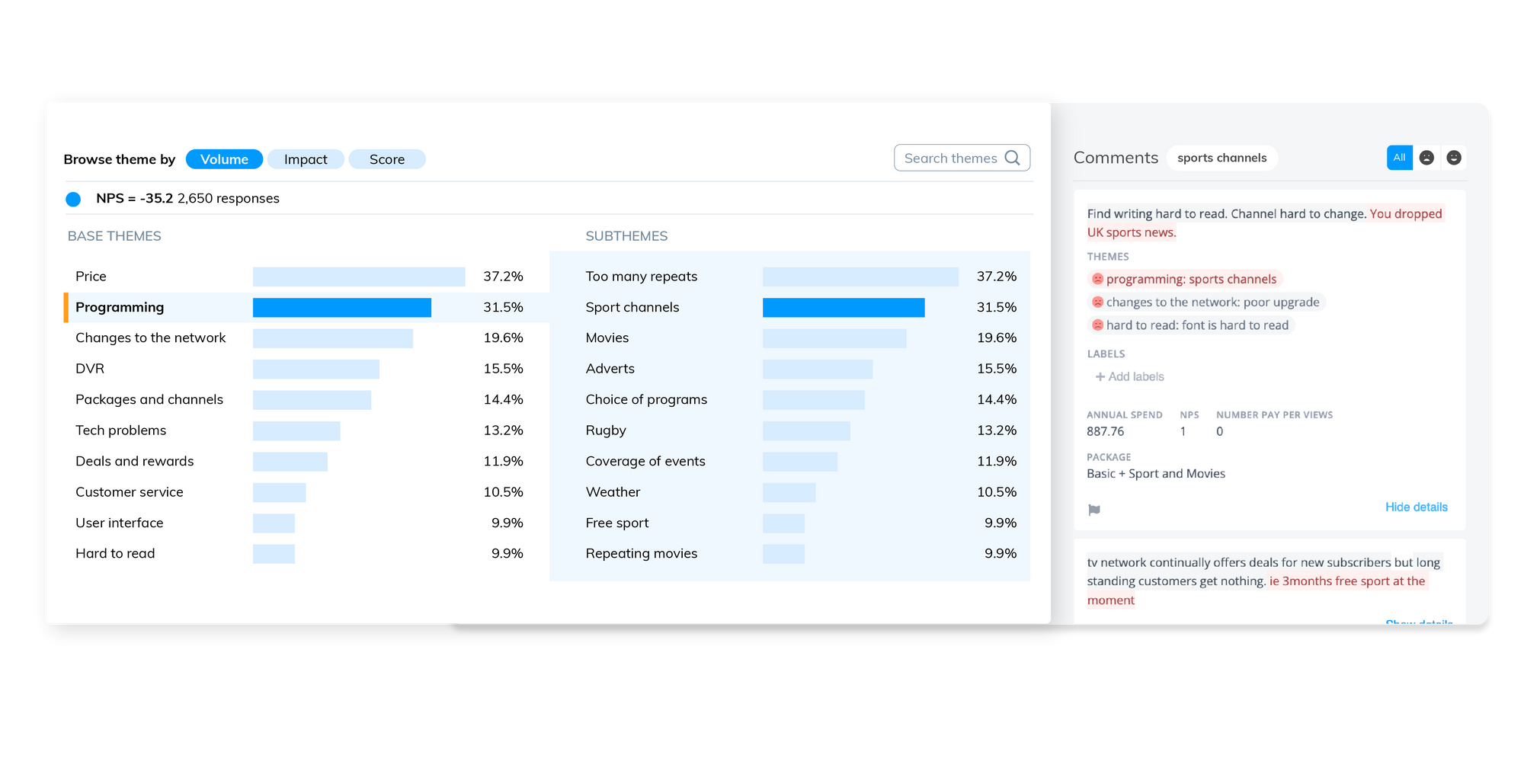 Thematic's filters make it simple to zoom in and out, going from general themes into sub-themes. You can get more granular by viewing summaries and lists of specific issues, questions and requests linked to original comments. Combine themes from text with quantitative data to get even more specific insights.
Thematic also provides custom workflows, so that users can set up alerts based on changes in their data, such as spikes in volume or sentiment, or specific keywords in comments.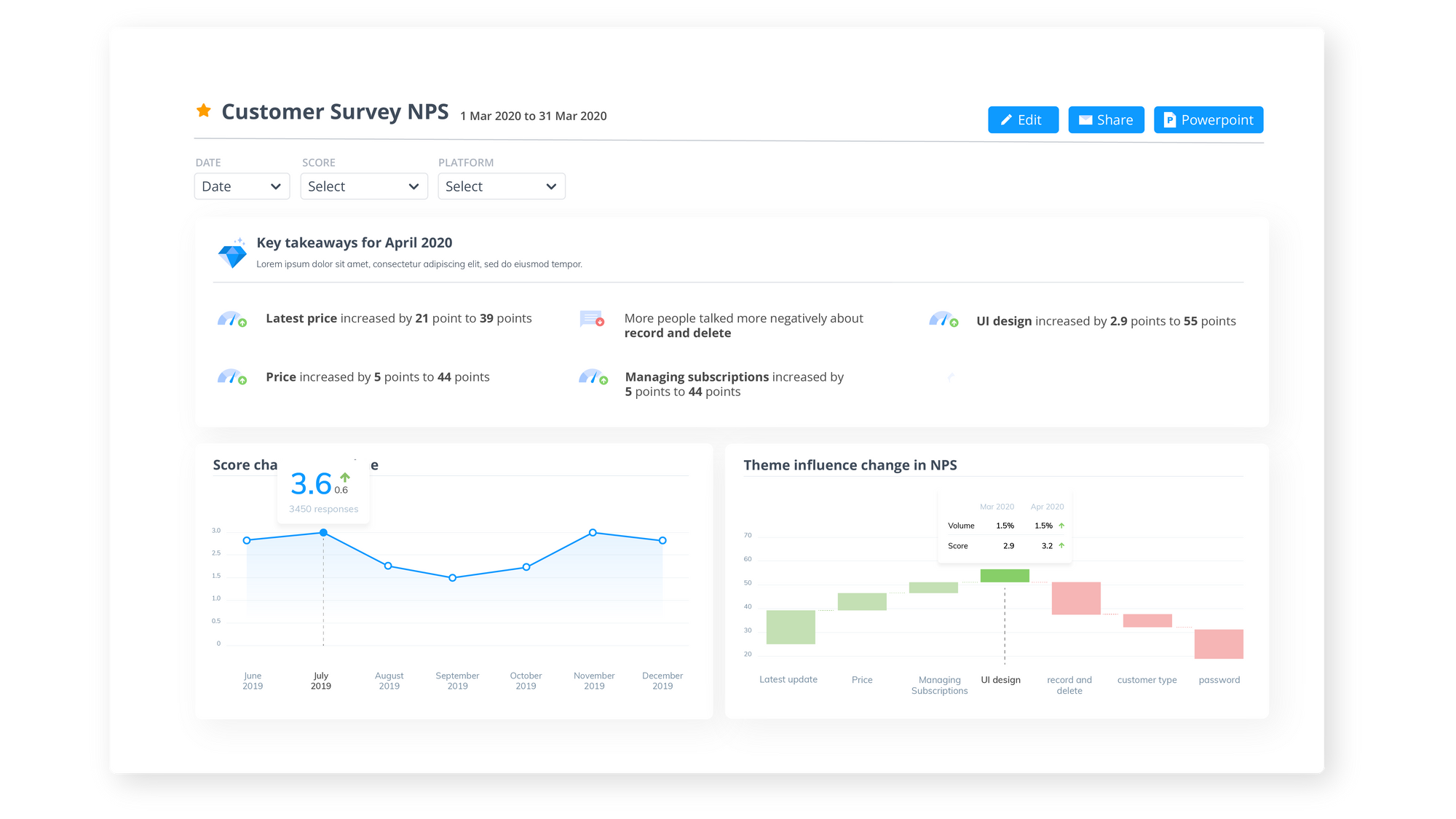 Text analytics approach:
Thematic uses Natural Language Processing to automate sentiment analysis and thematic analysis. The algorithm learns on its own, and does not require pre-defined categories or annotated data. Thematic discovers themes bottom-up: this means it can identify 'unknown unknowns' in your data as well as new, emerging and existing themes.
Thematic's themes model is flexible, and editable - it's designed to be enhanced with human input. You can add, merge, or delete themes to ensure insights are as specific and actionable as possible.
How long does it take to get up and running?
It's quick and easy to get set up - usually a couple of days to a week.
What data sources are supported?
You can add every source of feedback into Thematic: internal (surveys, contact center, support tickets, complaints, CRM notes) and external (review sites, forums, social media). Our data onboarding is easy and secure. Thematic has several native integrations that pull data continuously, as well as its own API. The platform supports CSV and sFTP, and the team can help you set up custom integrations as needed.
Self service / ease of use:
Thematic is an intuitive, collaborative platform that the whole company can use - you don't need to be a data scientist! User roles and permissions are customizable so everyone can access the insights they need. You can tailor insights to product, CX, operations and the executive team within minutes - and our CS team is always able to lend a hand.
Core features:
Connects every source of feedback in a collaborative platform
Rapidly identifies the drivers of customer experience, churn or NPS
Spots emerging issues in real time
Transforms raw data to specific, actionable insights within days, not weeks
Easy to use tools to tailor insights to product, operations, CX, marketing and executive teams, and maintain accuracy
Customizable dashboards and intuitive visualizations
Shows the full customer picture, and isn't limited to a pre-defined model
#2 RapidMiner
RapidMiner is a platform designed for data scientists. It works with both structured and unstructured data providing data preparation, feature selection, feature engineering, modeling, model validation and operationalization.
The platform provides machine learning support for all types of users through auto ML, visual authoring and coding with most customers using RapidMiner for no-code/low-code implementation of data science. RapidMiner's text mining capabilities are part of this wider platform.
RapidMiner's statistical text analysis and Natural Language Processing (NLP) capabilities allow you to load text from many different data sources, transform them through filtering techniques, and finally analyze the text data. Text Extensions supports several text formats including plain text, HTML, or PDF as well as other data sources. It provides standard filters for tokenization, stemming, stopword filtering, or n-gram generation.
To help get your team up to speed, RapidMiner runs an academy that offers a wide range of role-based, self-paced courses that 'certify' users on data science disciplines. RapidMiner offers full automation for non-coding domain experts, an integrated JupyterLab environment for seasoned data scientists, and a visual drag-and-drop designer that ties things together for the entire team.
Text analytics approach:
In RapidMiner, you can choose which Machine Learning algorithm you want to use on your data. It has a number of common algorithms available for stemming, lemmatizing, sentiment analysis and topic extraction.  
How long does it take to get up and running?
Between one and three months.
What data sources are supported?
RapidMiner ingests raw data from a diverse range of sources: from Hadoop/Spark, Excel, documents, social media, email, databases and cloud services.
Self service / ease of use:
Aimed at data scientists and data analysts, but they provide training via their academy so that everyone can learn to use the platform.
Core features:
An all-in-one data science platform
Data engineering, machine learning and machine learning operations
Build and deploy machine learning models
Run existing templates on your data - ie churn models
AI app building
Encourages company-wide collaboration
Wide range of integrations
#3 Chattermill
Chattermill is a unified customer feedback analytics platform: it unifies, measures and analyzes your customer feedback. Chattermill's main focus is customer experience; the platform uses theme and sentiment AI to help you see how customers feel, stay on top of emerging topics and understand what keeps them coming back.
Use Chattermill's filters to uncover the underlying layers of meaning within your data and gauge what's driving customer experience. Analyze signals within your customer feedback to accurately identify and predict opportunities to drive revenue, advocacy and retention across customer touchpoints.
Text analytics approach:
Chattermill uses predefined taxonomies focused on common customer success issues. Their data team will customize the model to your data if needed.
How long does it take to get up and running?
At least a month: approximately two weeks to create the initial theme structure, and an additional two weeks to review and refine.
What data sources are supported?
Chattermill supports a wide range of feedback sources. It has several integrations ready to go as well as an API for custom integrations.
Self service / ease of use:
The platform is intuitive and user-friendly. Because Chattermill uses predefined taxonomies, any changes to the theme structure can't be actioned by users, and it can take a few days for these changes to be implemented.
Core features:
Unifies customer feedback in one place
Integrates with existing tools and processes
Rapidly identifies the drivers of customer experience
Uses an AI-driven text analytics model
#4 Kapiche
Kapiche is a feedback analytics platform built to make sense of customer feedback data. It aims to improve decision-making and positively impact your company's bottom line.
Kapiche's text analytics model is built directly from your data, allowing you to rapidly understand new and evolving data sources. Kapiche's AI does the heavy lifting on topic identification, and users build out queries to work out how topics relate to each other. This data-driven approach provides an authentic view of what your customers are talking about.
Text analytics approach:
Kapiche doesn't use code frames or taxonomies. They discover prominent words in text and then use contextual links between these words for users to discover themes of interest.
How long does it take to get up and running?
You can get up and running with Kapiche within days. Kapiche does the heavy lifting on topic identification and then users add refinements and build out their own queries.
What data sources are supported?
Kapiche supports CSV/Excel file uploads, and offers many integrations - it can analyze any unstructured text data. Users use the platform to analyze surveys, support and chat data, online reviews and social media data.
Self service / ease of use:
Kapiche is simple to use once you get the hang of it. Users report that if you're not using Kapiche regularly it can be a little tricky to navigate setting up queries. Kapiche combat this with good support from their customer success team.
Core features:
Customizable and easy-to-use unified dashboard
Provides insights from customer feedback in real-time
Lets you dive further to explore your understanding
Provides actionable and valuable insights
Keeps up with everything, including CX support
#5 Lexalytics
Lexalytics is a traditional text analytics platform that transforms complex text documents into data and insights. Lexalytics leverages NLP to extract multi-layered sentiment scores, themes, entities, categories, topics, summaries, and intentions. You can see what people are talking about, how they feel, and why they feel that way.
There are three main aspects to the product:
Salience, their core text analytics and natural language processing software library, suitable for data scientists.
Semantria, which takes the capabilities of Salience and integrates them into existing data analytics infrastructure.
Spotlight, Lexalytics' complete solution built on the power of the Semantria API. You can visualize your results in interactive dashboards and share your findings.
Text analytics approach:
Lexalytics has pre-built models for creating summaries, extracting keyphrases (which they call themes), entities (proper nouns) and categorizing documents by topics (e.g. Sport). These models come in packs for specific industries and can be customized by the user.
How long does it take to get up and running?
You can instantly get initial results, but if your industry is not covered by one of the available packs, the customization can take weeks.
What data sources are supported?
Lexalytics supports a wide range of data sources, and can handle text in over twenty different languages.
Self service / ease of use:
Best suited to data scientists and data analysts.
Core features:
Sentiment and intention analysis
Named entity and theme extraction
Categorization and summarization
Low-level NLP functions (tokenization, part-of-speech tagging)
20+ supported languages
Pre-built industry configurations
#6 Google Natural Language AI
Google's Natural Language AI derives insights from unstructured text documents using Google machine learning. They have three natural language solutions that work with your text:
AutoML - train your own machine learning custom models to classify, extract, and detect sentiment. You can use the AutoML UI to upload your training data and test your custom model without a single line of code.
Natural Language API - similar to other NLP APIs, this uses pre-trained models to apply natural language understanding (NLU) to various applications. Covers sentiment analysis, entity analysis, entity sentiment analysis, content classification and syntax analysis.
Healthcare Natural Language AI - specific model for analyzing unstructured medical text.
Text analytics approach:
Uses pretrained models, with the option to build out customization.
How long does it take to get up and running?
If you're already familiar with data analysis, then you can get set up and analyzing text within a few days. The key delays are in learning to use the system and in training your model.
What data sources are supported?
A wide range of text documents are supported, including emails, chat, and social media. Integrates with the existing Google product suite, making it easy to connect your text data.
Self service / ease of use:
It takes time to set up your datasets and train your model for optimized results. The system is more user friendly for developers and data analysts - it helps if you're familiar with APIs and are happy to spend time customizing your text analytics model.
Core features:
Entity analysis to find and label fields within a document
Sentiment analysis to understand customer opinions
Custom entity extraction to identify domain-specific entities within documents
Speech-to-Text API to extract insights from audio
Vision API adds optical character recognition (OCR) for scanned docs
Translation API understands sentiments in multiple languages
#7 MonkeyLearn
MonkeyLearn is a machine learning tool that automatically analyzes text and extracts actionable insights from data. You can use pre-trained text analysis models or create your own – and tailor them to your needs for higher levels of accuracy.
Text analysis models include text classifiers and text extractors, giving you the opportunity to perform sentiment analysis, keyword extraction, intent classification and language detection.
MonkeyLearn embraces word clouds and offers their own WordCloudGenerator.
Text analytics approach:
MonkeyLearn uses pre-defined text analysis models to automatically tag your text. You can select existing models, or build your own custom classifiers and extractors.
How long does it take to get up and running?
You can instantly generate a word cloud from any data. When it comes to categorizing data, it depends on how many categories you are after.
What data sources are supported?
You'll find key integrations with everyday apps like Excel, Google Sheets, Zapier, RapidMiner, and Zendesk, giving you direct access to your data. Data does need to be pre-cleaned prior to upload.
Self service / ease of use:
MonkeyLearn is a low-code, no-code machine learning platform, with a point and click interface, making it easy to create your own text analysis tools. For those who know how to code, MonkeyLearn API is available in all major programming languages, so you can connect their text analysis models to the tools you already use.
Core features:
All-in-one text analysis and data visualization studio
Offers low code / no code text analytics
Label and visualize customer feedback
Create custom text analysis models
Robust documentation
#8 Qualtrics XM Discover (formerly Clarabridge)
XM Discover utilizes over 130 out-of-the-box industry templates and categorization models to analyze unstructured text data. XM Discover uncovers why customers reach out, how they feel, and what they plan to do next.
You can use ​​XM Discover analytics to optimize your customer service chatbots to better understand people. As part of the Qualtrics suite, it integrates with other Qualtrics products for an all-in-one solution, from collecting data through to analysis and implementation.
Text analytics approach:
XM Discover has a large variety of industry specific predefined models, using both machine learning and rule-based approaches. Users can customize specific elements to more precisely reflect their business.
How long does it take to get up and running?
If your dataset closely matches one of the taxonomies that XM Discover offers, it will take a couple of weeks to get started. However, an implementation that requires a lot of customization can take up to six months. This typically involves a XM Discover expert creating complex rules to capture themes of interest in close collaboration with the business stakeholders.
What data sources are supported?
XM Discover connects to multiple feedback and interaction sources, with 100+ pre-built connectors for various data integrations. These cover contact center logs, surveys, social media and chat.
Self service / ease of use:
XM Discover's capabilities for text analytics are great, but the user interface can be challenging to navigate, especially for new users. Implementation can take up to six months, and ideally you'll have staff regularly using the platform to stay on top of ongoing maintenance.
Core features:
Automatically find topics and sentiment in text
Detect emotion, intent, and effort with industry-specific NLU models
Augment customer and employee experience in real-time with automated workflows and triggered actions
Enrich your customer and employee profiles with notes on emotion, effort, and intensity
Next steps: choosing a text analytics software platform
Finding the right text analytics solution for your company can be tricky. Hopefully our list helps narrow down your choices. Ultimately, the best software is the one that fulfills all of your company requirements and provides trusted, accurate insights.
So where to from here? Book demos with providers to help guide your selection. Ideally, request a trial of the software; you want to be sure it works on your data.
Once you've identified your top contenders, you can start crafting a request for proposal (RFP). If you'd like some help with this, we've created a guide specifically for text analytics software RFPs.
And of course, we'd be thrilled to show you how Thematic works magic on your data. Book a demo with our team and let's get analyzing!
All the best on your quest for efficient, accurate text analysis.