Voice of the Customer for Product Operations
The role of product ops is still relatively new, but it's fast becoming essential to growing product teams and product-led companies.
Product ops can be thought of as a role (or team) within an organization, as well as a skill product professionals can develop.
The operational and time-consuming tasks that are/were traditionally part of the product manager workload now fall within the remit of product ops. This empowers product managers to focus on building products with better market fit, whether the company's product focus is a trail shoe, new e-bike technology or a SaaS offering.
Product ops managers are responsible for setting up a system within their company to feed the right data - both qualitative and quantitative - into product development and improvement processes.
Effective product operations managers accelerate feedback loops, increase operational and decision efficiencies, and improve feature adoption. Beyond operational skills, they're savvy with data and know how to organize and use it for product decisions. Explaining spikes and drops in essential metrics are their bread and butter, as is helping product teams leverage data for deep customer insights.
Three key responsibilities of product ops managers include:
Data: Product ops managers gather, organize and analyze quantitative and qualitative feedback data. They empower the entire company to access user insights for product and customer experiences.
Tools: Like other operational roles, product ops manages the product tech stack. This can include various software-reliant processes across engineering, design and product teams. Product ops also maintain templates, guidelines and how-to resources.
Strategy: Product ops oversees collaboration around the product or products across various teams. They leverage product and customer insights to identify potential improvements and inform decisions across all areas of the company, from product through to other departments like customer support.
One game-changing system that product ops managers can (and should!) implement is a Voice of the Customer (VOC) program for the product team. Done right, a VOC program will improve decision-making, clarify priorities and validate product roadmaps - so that the product team can focus on creating products and improvements customers truly want and need.
We'll start with a quick rundown of what VOC is and why it matters. Then, we'll dig into why it's so important for product operations, and cover the essential steps necessary to build a VOC program. Lastly, we'll look at how VOC feedback data is analyzed to extract useful insights, and how product ops managers can report and share these insights to optimize decision making within product teams.
Our main takeaway? An optimal VOC program is a true heavy hitter in a product operation manager's arsenal. It results in better products and services, as well as improved customer satisfaction and retention.
What is a Voice of Customer (VOC) program?
A Voice of the Customer program is the process of identifying, analyzing and acting on insights into your customers' preferences, expectations, and dislikes. The data that feeds into a VOC program focuses on product and customer experiences - with the aim of finding what's most important and impactful to customers.
It's a common misconception that a VOC program is simply gathering feedback and executing surveys. But it's not enough to simply listen to customers. A Voice of the Customer program is the entire process of:
Collating product and customer feedback in one place
Analyzing the data to see what customers care most about and why
Crafting and implementing initiatives to drive change
Getting feedback to close the loop
We'll cover this process in more detail later.
A crucial step - especially for product ops - is ensuring the relevant people in the company receive relevant insights and are able to action them. A successful VOC program empowers everyone in the company, especially product development teams, to make customer-centric decisions. If this step isn't in place, your VOC program may as well be a desert(ed) island.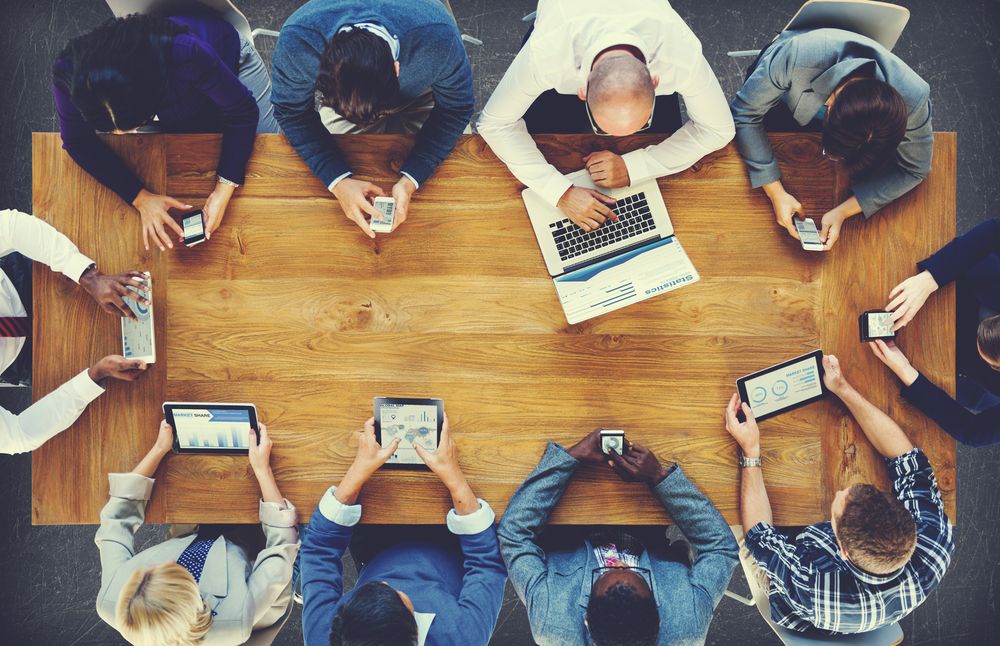 Why VOC matters in product operations
VOC programs help product ops managers keep their finger on the pulse of what customers want and need from products, services, and customer experiences.
Simply looking at a bunch of feedback in separate silos will reveal a whole range of disparate issues which may or may not be important. But product ops managers who aggregate and thematically analyze their VOC data can easily see what matters most. They can then share these insights to help their product team build better products, with features that are a closer fit to customer requirements.
VOC data contains rich context to better inform and explain:
Product issues and pain points
Potential opportunities
Valuable customer segments and needs
Successful product operations managers are often successful VOC users. The key to succeeding with your VOC program is all down to the quality and integrity of feedback analysis - more on this in a bit. First, let's look at how to set up a VOC program and get it running smoothly.
How product ops can implement a VOC program
For product operations professionals to successfully incorporate VOC data into their company's product development processes they first need to set up a VOC program.
Here are the four steps to follow:
Collect: Gather customer and product feedback from a range of sources. Feedback data can include everything from social media mentions, customer surveys (CSAT, Net Promoter Score), direct feature requests and support tickets. Ideally product ops need to collect feedback from every touchpoint in the customer journey, to build a comprehensive picture of the product and customer experience.
Analyze: Dive deep into the data to uncover key trends, themes and customer expectations. Use a consistent methodology, considering whether manual or automated analysis is the best fit. Identify key insights, pain points and opportunities.
Implement: Share these insights with the relevant team/s to drive change. Some insights will be more helpful and actionable than others - for example, customer comments about a new feature saying "I enjoyed this" are far less helpful than "I would've liked it to do x." To have real impact, product ops empower everyone in the company to access and assess insights relevant to their work.
Close the Loop: The crucial last step in any VOC program is closing the loop. This means gathering new customer feedback on the changes you've made to assess the impact. Don't forget to also communicate with customers about the changes you've made, to show that you're listening and committed to improving product and customer experiences.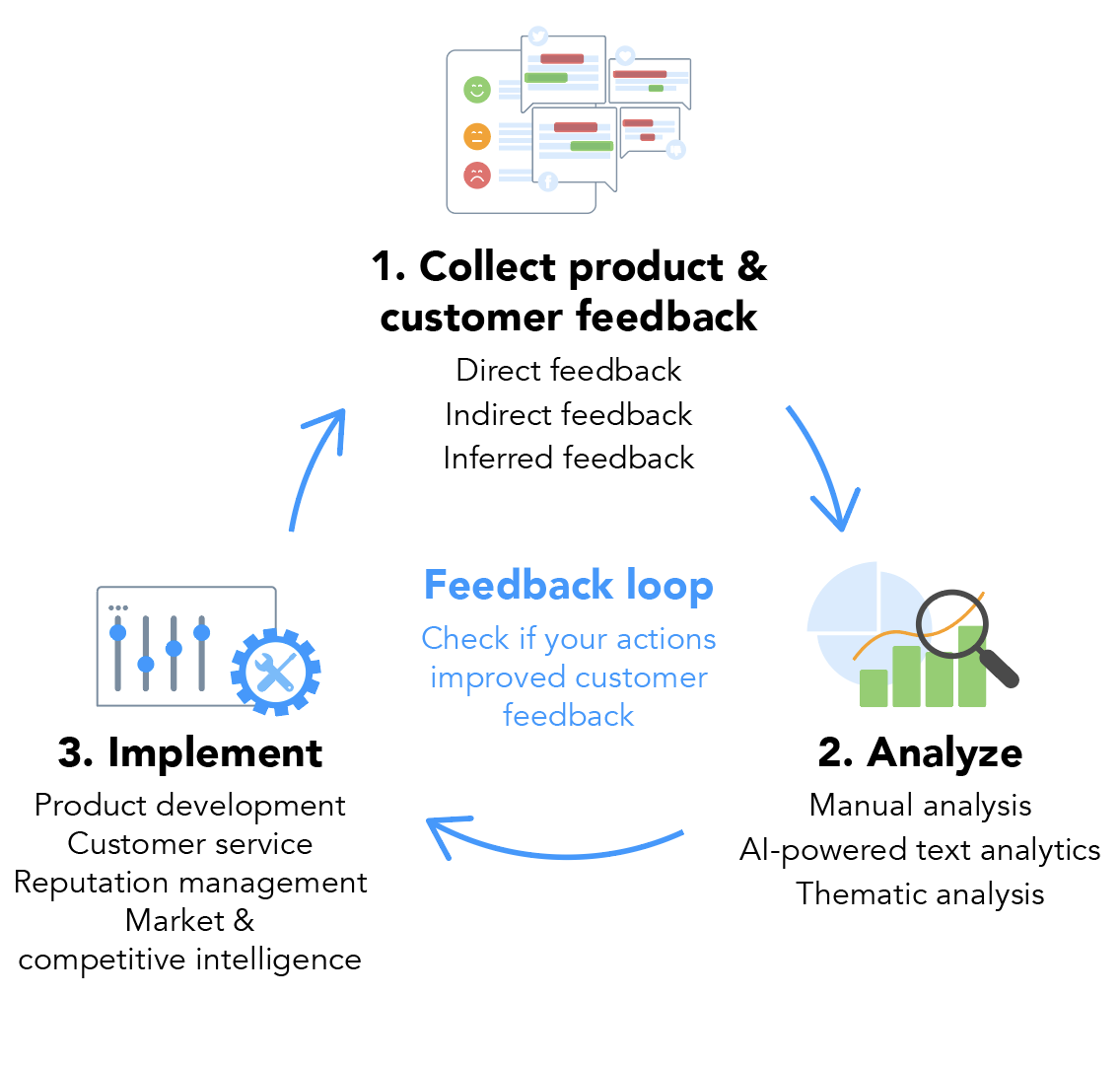 Need to dive deeper into VOC set up? Check out our complete, detailed VOC guide.
Ensuring quality of feedback analysis
How do you guarantee the quality and integrity of your feedback data analysis? When crucial product decisions hang in the balance, product ops professionals need to be sure the data they provide is both timely and accurate.
Feedback analysis can be done manually, or through an automated analytics solution like Thematic. If you're dealing with very small volumes of customer feedback (less than 2000 pieces of feedback a month), then manual analysis  is a realistic, if time-consuming, option. Keep in mind that biases can often sneak into manual analysis, and it's less likely emerging or new issues will be uncovered.
An automated solution can be just as, if not more accurate as a person. The key benefit is the painstaking time saved on organizing and analyzing the data on an ongoing basis, as well as the capabilities to easily aggregate data for deeper insights.
Set up is possible in days, not weeks, and feedback analysis can be done in minutes: product ops can get the answers they need in near real time. The set up and ongoing maintenance effort differs between different analytics platforms, so be sure to check you're getting the operational efficiency you need.
To drive real growth and change, product ops need to get deep and contextual insights to the right teams and individuals quickly and easily. They also need to monitor and assess the initiatives created with these insights.
Product ops can do this best with technology solutions that integrate with their current workflows. The best approach is to find a strong feedback analytics solution with reporting solutions that are useful and accessible to key decision makers - in product teams and beyond.
With Thematic, you can set up automatic alerts into Slack or email for emerging feedback or significant changes. Product teams can get real time feedback about a feature, while they're refining it. Users can easily build editable dashboards to display the results and provide access to anyone who needs deeper analysis. Analyzed data is also easily exported to other tools in your product tech stack, like PowerBI or Tableau.
It's no secret that we're keen for more product ops managers to use next-level feedback analytics platforms like Thematic. We'd be delighted to show you how our platform works, and prove how much we can help you with a personalized demo.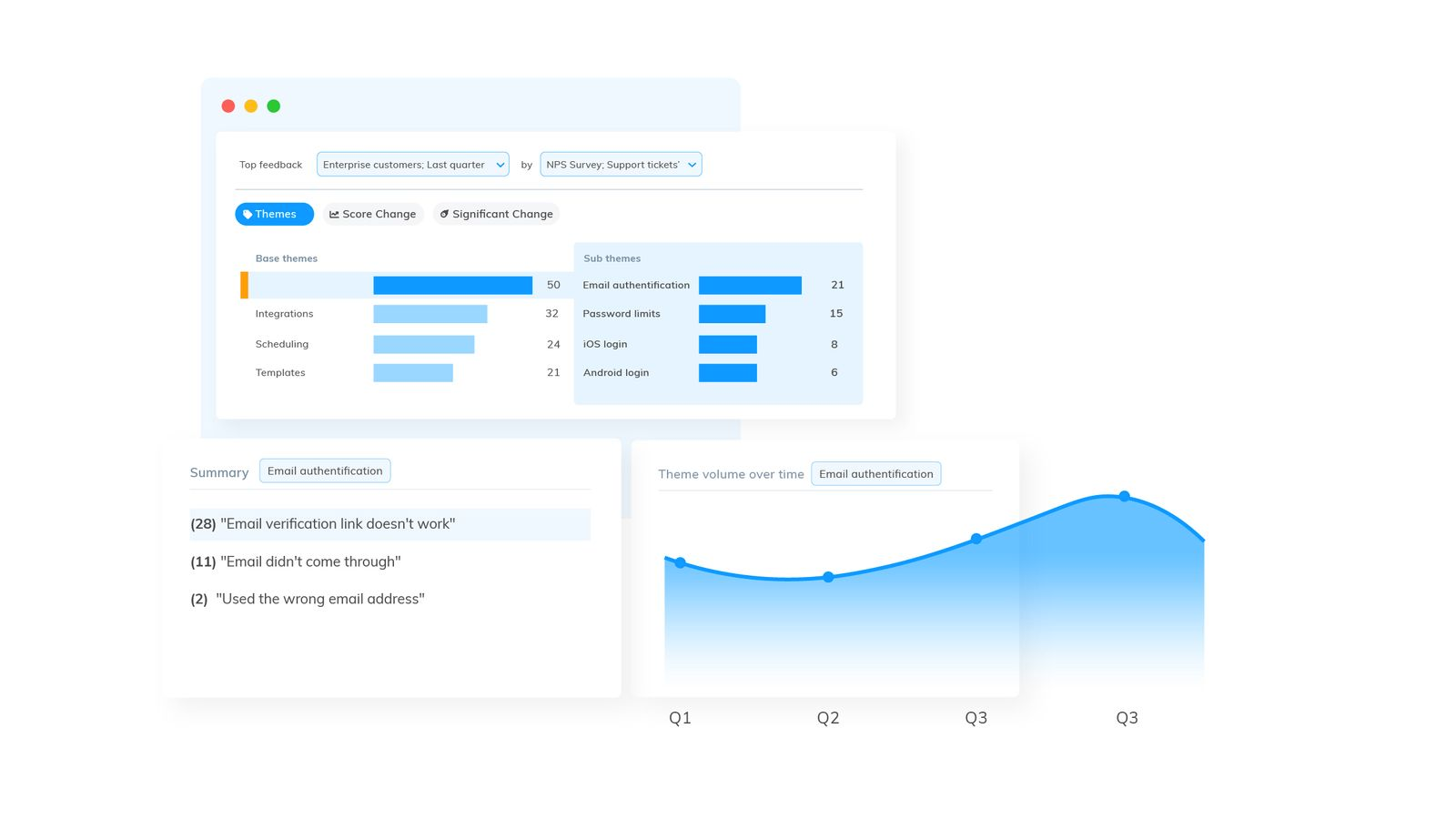 Using VOC data to inform change
Getting insights to the right people who can drive change is not about just sharing VOC data in a quarterly board presentation. Your VOC program, and the resulting customer insights, need to be accessible across the entire company.
Product operations professionals need to know when to enable self-service analysis, and when it's necessary to jump in and help with reports and visualizations to optimize decision-making.
In the early days of product management, people were more gut-driven. To an extent, gut instinct, or 'product sense', is still a vital skill within product teams, but stakeholders want to see clear evidence before committing to change.
Regardless of which text analytics solution you implement as part of your VOC program, you need to make sure your solution provides the following:
Ease of use and accessibility to VOC data across the company
Reporting and analysis  - how well do the analytics tools answer vital questions for product teams? Can you see what's most important, can you answer the why behind the what? Can you see why your NPS score has changed?
Visualizations and data flows - can you export to Powerpoint, are there in-platform visualizations that are easy to understand and share?
If you're currently assessing various feedback analytic solutions, check out our handy buyer's guide for a full rundown on what to consider.
We hope this post has provided insight into the importance of VOC strategy for product ops and product management. A few final points to optimize your VOC:
Ensure you connect changes in customer behavior with the actual feedback collated.
Organize your data so you can show all relevant stakeholders how your VOC program is delivering ROI - otherwise they'll only focus on the investment cost.
Prioritize the changes your customers identify as the most important - both for product development and for customer retention.
Consider an automated solution like Thematic that integrates with current product team workflows.
And one last shout out for Thematic - if you'd like to find out how we can help you get more value from your customer feedback, prioritize impactful pain points and transform the product experience feel free to book a time with one of our experts.
Further reading
You can find out more about analyzing customer feedback in these guides:
We also have some free feedback tools and resources that may help you: