Qualtrics helps companies gather feedback from customers across SMS, voice, social, web, app and more. Using open-ended questions enables you to hear and understand the customer at every meaningful moment.
Why analyze Qualtrics surveys using Thematic
With NLP models designed to self-learn, Thematic analyzes text feedback in a way that is quick, rich and completely relevant to the context. It discovers meaning and sentiment, with quantified results in data visualization tools. You can determine what matters to customers, and what affects them coming back.
Benefits you unlock by connecting Qualtrics to Thematic:
Save time by eliminating manual setup of topics
Pick up emerging themes instead of known buckets
Fast and easy answers to critical business questions
Here's why you might want to pull your Qualtrics data into Thematic:
1. Faster analysis of open-ended responses in Qualtrics surveys.
Qualtrics has two main solutions for analyzing open-ended responses: TextIQ and Clarabridge.
TextIQ can be powerful, but it requires a lot of manual work to set up.
Clarabridge relies on pre-built dictionaries and is costly - hundreds of thousands of dollars.
Unlike TextIQ, Thematic discovers themes in your data, so the setup time is faster. As topics in your feedback evolve, Thematic picks them up as themes. It's more powerful, flexible and cost effective.
2. Get a single view of the customer
Qualtrics do surveys well, but these are just one source of customer feedback. Feedback becomes powerful when it's tracked across all channels: your reviews, contact center data, complaints and in-product feedback.
Thematic is agnostic to how feedback is collected. It organizes all your data in one place, regardless of the platform.
How to connect to Qualtrics in Thematic
Thematic has a 1-click integration with Qualtrics. Here's how it works:
In top right user menu, go to Integrations and find Qualtrics in the list
Click on Qualtrics. Enter Data Center ID and API
Create a dataset, and choose Qualtrics under Data source type
Find the data set you want to import into Thematic
Here's a quick video explanation: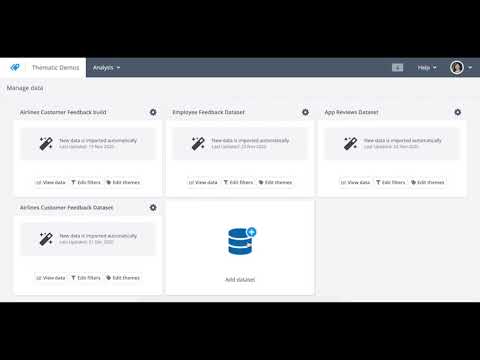 By analyzing your Qualtrics data in Thematic, you'll save time, make better strategic decisions and align your team on priorities.
Further reading